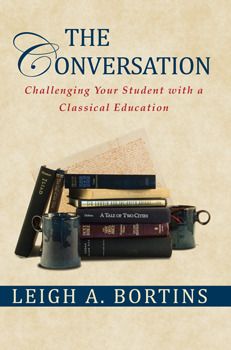 When deciding to homeschool, there are about ten different styles of homeschooling to choose from. Classical Education is one of the most popular. Classical Conversations is a Christian community that unites and supports classical educators around the world. I received their newest book, The Conversation by Leigh A. Bortins, for review.
What is Classical Education?
Classical Education is based on the philosophy used in ancient Europe during the Middle Ages. The rigorous style of education views education in three phases- grammar (grades 1-4), logic (grades 5-8) and rhetoric (grades 9-12). The different stages correspond to the development of your child''s ability to reason- also known as the Trivium.
The Conversation- Challenging Your Student with a Classical Education Review
The 254-page soft cover book divided into three parts:
Part One: High School at Home
Part Two: The Rhetorical Arts
Part Three: Appendices
High School at Home is focused on building confidence in parents to know that we can homeschool high school. So many people quit homeschooling when their children reach high school. Many of them quit simply because they don't believe they are capable of teaching the higher grades.
Personally, I think that's the most important time to be homeschooling… especially in today's violent age.
The Rhetorical Arts teaches you how to use classical education methods in each of the following subject areas:
Reading
Speech and Debate
Writing
Science
Math
Government and Economics
History
Latin and Foreign Languages
Fine Arts
Having read the book…
The Conversation is incredibly educational and encouraging. Leigh's tongue (or pen rather) literally drips wisdom. I feel more intelligent for having read it. I can only imagine how incredibly smart those who have gone through an entire classical education must be.
Beyond all the wisdom, she writes with a personable and uplifting tone. I identified with Leigh when she said…
"Replacing the idea of school days with lifetime learning is one of the hardest habits to break…a lifetime of learning means some days and some months and some seasons look like school at home, some look like goofing off, and some look like suffering. Life is a big bag of living."
The past few months have been full of ups and down for us as a family and the above quote really hit home. Some days are productive and others… well.. if everyone is bathed and fed, I count it a good day. The seasons of life ebb and flow like the seasons of weather. The Conversation greatly encouraged me in knowing that we are not alone in our chaotic, sometimes haphazard life.
When we are able to carry on a routine, we are a Charlotte Mason-esque homeschool and so most of our educational tools involve good quality literature. While I will maintain how we do things for the most part, there are some incredible ideas for incorporating the classical education method into daily life. I may use some of them in the future- especially for my preschoolers who are about to enter the grammar stage.
I would highly recommend The Conversation to anyone struggling with the decision to homeschool high school, anyone looking for different homeschooling method options, and those just needing some encouraging in their homeschooling ventures.
Connect with Classical Conversations
Click the banner below to read more Crew reviews about The Conversation