Family Bible Study is important. Finding a family devotion or lesson plan that truly works for all ages of the family is rare, and Grapevine Studies fulfills that need. I am a long time fan of their Stick Figure Through the Bible books so when the opportunity to do a review for them, we were super excited!
Family Bible Study
We received digital copies of:
Both of the student books have 12 weekly or 45 daily lessons. Within the books, you'll find lesson pages, memory verses, maps, reviews, and timelines. Because the books are targeted at such different ages, there are some differences in the books as well.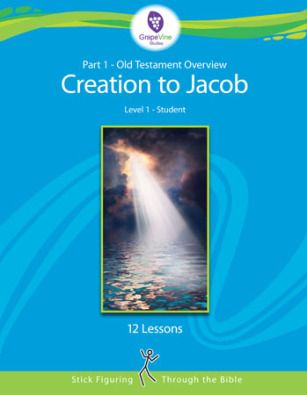 Traceable Level 1 is recommended for children ages 3-5. Unlike the other levels which have places to draw the symbols, this book is traceable- which is perfect for this age group. At this age, they haven't quite mastered the art of drawing yet. However, don't feel like their creativity is dampened. There is still ample space around the tracing pages (timeline) and lots of blank space on the student drawing pages.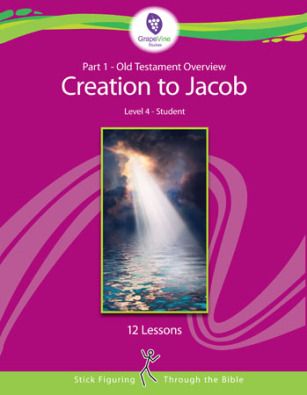 Level 4 is recommended for kids ages 12 and up and rightfully so. Level four introduces the idea of topical Bibles and Bible dictionaries.
Some examples of the work to be completed in Level 4
Give the literal meaning of the word Eden.
How many times is the word skins found in the Bible?
Give a biblical definition of walking with God.
What is a cubit?
Was the flood of Noah a worldwide flood? Give your reasons.
How we used Grapevines for Family Bible Study
After printing out the first four lessons for both levels, I read through both teacher books and printed out the pages I knew I would need to look at over and over again- like the Teaching Multi-Level Books page. The rest of the guide I read from iPad.
We followed the recommended daily schedule:
Day 1: Timeline Review Page
Day 2: Lesson page 1
Day 3: Lesson page 2
Day 4: Student Drawing Page
Supplies we needed to have on hand included:
a couple of Bibles
our dry erase board and markers
colored pencils
Bible dictionary
Max (4-year-old), Caroline (3-year-old), Julia (13-year-old), and I all sat down together to work on the lessons together. I read from the teacher book and gave instructions as the kids traced, colored and drew. Thankfully the teacher notes and instructions are prompted so there are no worries of not knowing what to say or how to lead the lesson.
When we got to the question answering part, I let Julia go elsewhere to work on her harder questions while the babes and I did the questions orally.
As expected, this has been a wonderful experience. The children are learning and we're bonding through God's word. Is there anything greater?
If you are interested but not sure where to start, check out the Where to Start page and samples of the lesson pages.
Click the banner below to read more Crew reviews about the different levels of family Bible study tools