With elections coming up this year, there couldn't be a better time to teach our kids about the importance of voting and how the whole process of electing a president works. We were recently given HISTORY Through the Ages Hands-on History Lap-Pak: U.S. Elections ($18.95) from Home School in the Woods for review.
The downloadable elections lap book is comprised of 21 projects, a reading text in booklet form that you can print and store with the lap book, as well as a narrated audio (MP3) of the text. The majority of the supplies required  to complete the projects are things you can find around your house- among them are the normal card stock, glue sticks/double-sided tape, scissors, file folders . . . etc. Some of the not-so-common supplies might be fabric, paper fasteners, and acetate.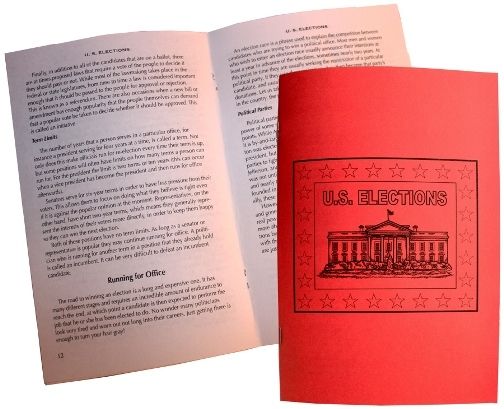 *a note about the reading text*  I tried in vain to print the booklet in actual booklet form. Though Amy Pak (creator of Home School in the Woods) gives excellent instructions on printing the booklet, I was unable to get it right.
She gives three options for printing:
duplex printing (actually prints and  looks like a book) final size is 5 1/2″ by 8 1/2″
single page printing and manually matching the pages to create front and back text, which when finished also looks like a book (5 1/2″ by 8 1/2″)
regular full-page printing (ends up being 13 pages long OR 7 pages if you print double-sided) <— this is what I ended up doing
Along with the hands-on projects, comprehensive lists of books and online resources are included if you feel the need to enrich the study, or turn each project into it's own in-depth study.
how we compiled our elections lap book
The first step in assembling any lap book is printing. . . Printing. Printing. Printing. Thankfully, as I mentioned earlier, Amy does a WONDERFUL job with instructions. There is an entire PDF of instructions that I printed out to look over and be sure I had all my materials. I carefully printed out my project masters (PDFs) and stored them in a binder with the instructions for each project. In general, we did about 3 projects a week. I would have liked to pick up some books from the library to go with our elections study, but this is a crazy busy season for my family and we just didn't have the time.
The elections lap book is recommended for kids in third to eighth grade. My seventh grader, Julia, worked her way through the projects without much assistance needed from me. There is a lot of writing so kids in younger grades might need help with that when the time comes.
Instead of assembling our elections lap book in the traditional lap book form, we went with a 3-prong file folder instead. By coloring her cover and putting the specially shaped pages onto full-size pages, Julia was able to create a similar product as the original lap book.
Some of the topics covered in the elections lap book are:
different branches of government
suffrage
political parties
caucuses and primaries
how the residential campaign works
statistics
election day
inauguration day
That's just 8 of the 21 different topics. As you can see, it's quite extensive and could easily be extended and enriched with extra resources to become a full blown middle school government class. I think once life slows down we will revisit the lap book and use some of those recommended resources.
Home School in the Woods offers a plethora of other lap books (she calls them Lap-Paks) and history studies.
Connect with them on Social Media: