Finding the best homeschool writing curriculum for your child can often be a difficult task. There are just so many factors . . . reading ability, writing ability, is the content God-honoring? I'm so thankful for companies like Apologia Educational Ministries who make so many different types of high quality curriculum, all of which come from a biblical worldview. We were recently given the opportunity to review Writers in Residence . We received the full set ($89 value), which includes both the consumable student text/workbook and the answer key.
Writers in Residence Homeschool Writing Curriculum Review
Writers in Residence is recommended for students in fourth through eight grade, so it's essentially a middle school writing-focused language arts program. Students learn about sentence structure, parts of speech, and the proper use for punctuation, capitalization, and usage- all while completing interesting writing assignments. Within the six units of volume one, students learn how to properly produce creative writing, research writing, opinion essays, autobiographies, and short story papers.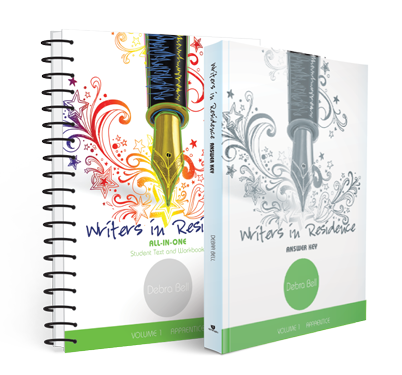 I believe the author, Debra Bell, concisely sums up this wonderful program when she says . . .
Many writing programs ask students to produce four traditional forms of writing: personal, expository, persuasive, and narrative. But authentic writing (the kinds we engage in as adults) rarely fall exclusively into any one of those categories. . . The assignments in Writers in Residence series reflect this reality.
I couldn't agree more. Whether you are reading a Jane Austen, Joyce Meyer, or even more – Ann Voskamp – the "rules" of writing are thrown out the window when it comes to personal, authentic composition.
A few of the things I really like about Writers in Residence:
The conversational tone- being a Charlotte Mason-esque family, I appreciate the personal/living tone of the book. I can tell that Debra wrote this with purpose, passion, and love in her heart. She did an excellent job.
The self-contained student text/workbook – for one thing, it's HUGE. It's spiral bound (my personal binding preference). No printing, no folders, no nothing else- just one big'ol book.
No grading- rather than assigning letter grades to your student, you are urged to evaluate each assignment for it's strength and weakness and overall progress. If you really need grades, there are assignment rubrics (with possible points), unit reviews and mastery tests to fulfill your grading desires.
The answer key is so much more than just an answer key. While some "teacher guides" I have reviewed in the past have fallen far short of being a guide at all, this one exceeds all expectations. Included in the key are: checklists, rubrics, answers (to everything), and a daily schedule. The daily schedule is a must for me. I loathe having to figure out  how much and how often we need to do something to make sure we finish by the year end. This particular schedule has a wonderfully large layout with enough room to make notes, includes check boxes, and is four days instead of five- which leaves breathing room. Yay!
The relaxed pace- there's no need to feel rushed or to cram lessons together. The relaxed pace gives you ample time to work ahead or skip a day here and there and never fall behind. One day might be brainstorming, another revising, still another just reading. . . it's very casual (but effective) and I love that.
How we used Writers in Residence
As the schedule recommends, we used the student book four times a week. My seventh grader made her way into module five (of twenty-four). While she definitely found the work fun, it was at times under her skill level. Albeit she is in the tail end of the recommended grades for this curriculum. Some things she was able to skip over like basic sentence structure and noun/verb things, which is largely due to her being such a good reader. She reads upper high school level books right now- and comprehends them.
Other than my daughter being a bit advanced for the course, I completely love it. I almost wish she were a bit younger so we could work through the entire thing together. I guess I will just have to save it for my kindergartners. That's only four years away, right?
Connect with Apologia on Social Media:
Click the banner below to read more Crew reviews about the awesome new homeschool writing curriculum ~Writers in Residence