A while back we reviewed a lovely little product called Emu Oil. I used every. last. drop. It was velvety, smooth, and really made me feel pampered. This year we received it's animal by-product free counterpart – GREEMU. Made by Devonian and distributed by Koru Naturals, this oil is the multi-use natural beauty product people have been waiting for.
Cruelty-Free Natural Beauty With GREEMU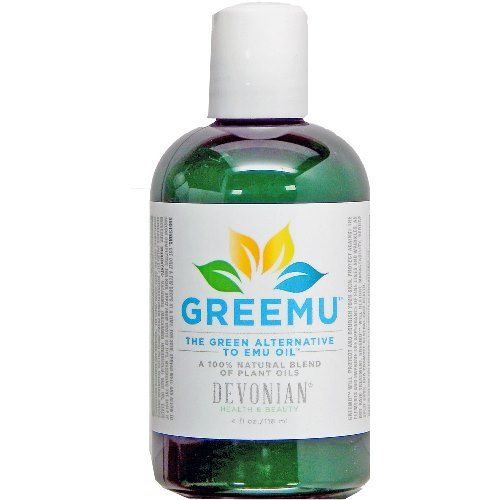 What is GREEMU?
GREEMU is a blend of plant oils that replicates the liquid composition of Emu Oil:
Macadamia Seed Oil – hydrates dry and rough skin, reduces the appearance of fine lines including those around the eyes, and does not clog the pores
Palm Oil Certified Organic – because of its nutrient-dense profile, palm oil is highly beneficial for skin
Shea Butter –  superb moisturizer containing vitamin E, perfect natural moisturizing agent for the skin
Sunflower Seed Oil – helps repair the skin's barrier, reduce inflammation and helps hydrate dry skin
Rice Bran Oil – contains squalene (a potent antioxidant also found in shark liver oil) which promotes the production of collagen in skin
As you can see it's completely plant-based, and it's also certified vegan.
Benefits of using GREEMU
protects and nourishes skin
reduces fine lines and wrinkles
moisturizes hair to reduce frizz and fly-aways
moisturizes scalp to reduce itchiness and dryness
hydrates dry skin on a cellular level
How we used GREEMU
I have used it extensively on my hands, face, and body. My hands have had it the most as I use it throughout the day, especially after washing them. I've been putting it on my face a few times a week before bed and some mornings when I can't find my normal face lotion. (My two year old likes to play in the basket that contains mommy's face products.) I've also been using the GREEMU as body lotion each time I get out of the shower/bath. I love that I can do an all over body application with about a quarter size amount. It's super concentrated and really goes a long way.
The results? I am super smooth, super soft, and maybe a tad less wrinkly. My hands are definitely better off- no more parched/skin-is-going-to-crack feeling. Yay!
I also used the oil in two of my daughters' hair. My two and four year olds have super thin hair that gets whispy and flies in their faces a lot. I try to use hair spray on it but never stays long. After using the oil a couple of times, I noticed that it wasn't such a problem. It didn't completely make it go away but did help.
Overall, we've all enjoyed using this natural beauty product. It has been nothing short of beneficial for everyone who tried it.
Connect with Koru Naturals on social media:
Click the banner below to read more Crew reviews about GREEMU