Like most children, mine enjoy doing art projects- painting in particular. However, like a lot of Mamas, I tend to shy away from letting them paint too often simply because it can make quite the mess. Mess on the floor, mess on the table, mess on them, MESS.
It seems that one company may have the answer to that problem. The Pencil Grip, Inc. has created paint in glue stick form. We received two Kwik Stix 6-packs: the Kwik Stix METALIX Solid Tempera Paint, and the Kwik Stix NEON Solid Tempera Paint for review.
They require no water, no brushes, and only 90 seconds to dry. Yes, you read that right, 90 little seconds. No more saturated paint papers laid all over the dining room table. In general, by the time your child is done painting, they are ready to be hung with pride. 
Also available is the Kwik Stix 12 pack.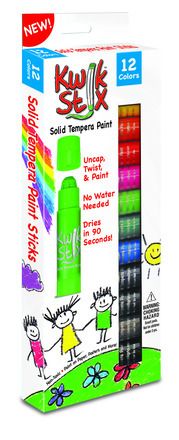 No Mess Kids Art Supplies
As soon as we received our Kwik Stix, the kids couldn't wait to get them out of the package and onto paper. Immediately I noticed that the paint sticks are super easy to use. They're big enough for little hands to handle them easily.
How we used our Kwik Stix
Some things we really like about Kwik Stix:
they are great for all ages – even my 18 month old can use them
only takes 90 seconds to dry
available in a wide variety of colors
easy clean up (just put the lids back on!)
THEY DON'T MAKE A MESS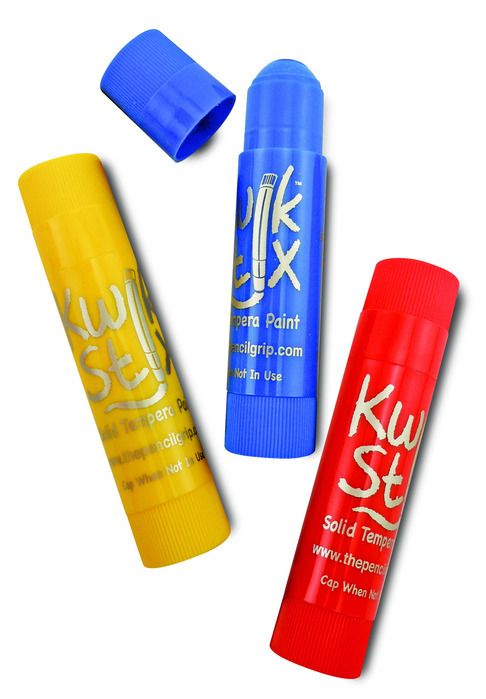 We also received some neat
pencil grips
. They are super soft (unlike some much harder ones I've used with the kids before). Be sure to check them out!
Connect with The Pencil Grip on social media:
Click on the banner below to read more Crew reviews about the Kwik Stix