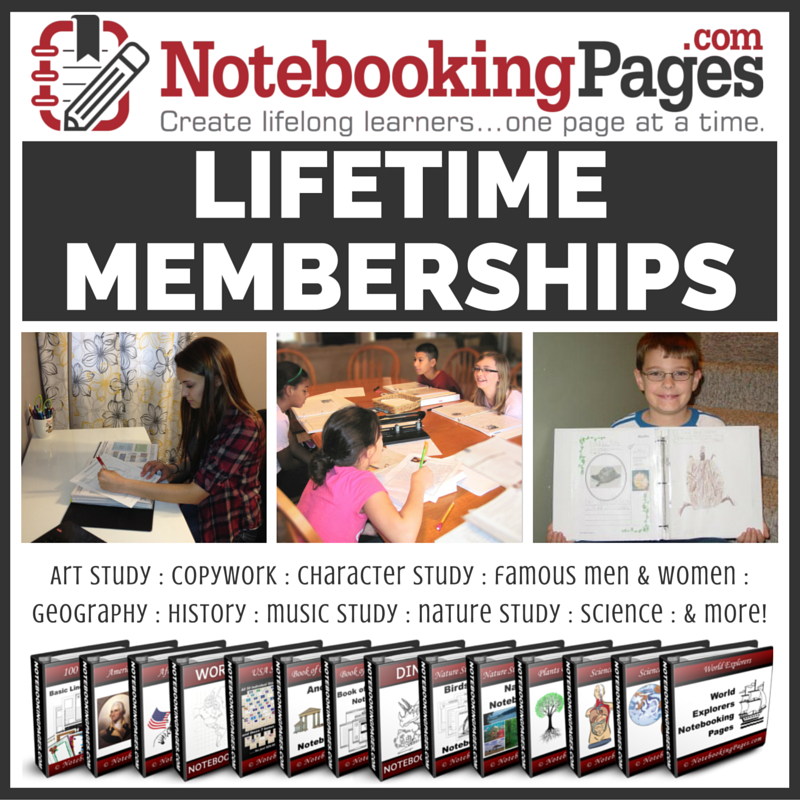 We've used notebooking pages in our homeschool before, but it was always a hunt for free stuff on the web. I often considered purchasing the 
Lifetime Membership
 from 
NotebookingPages.com but thankfully I never did. Why thankfully? Because as a member of the Schoolhouse Review Crew, we just got one for FREE!! Yay!!
You have no idea how excited I was to get picked for this review. I've always been a fan of notebooking but having to extensively search for something free each time we wanted a page was a bit of a hassle. But no more!! 
What is  notebooking?
Notebooking is creating and compiling a personalized notebook (we use binders) of learning experiences, insights, sketches, illustrations, creative writing, and thoughts. Basically, it's a scrapbook. NotebookingPages.com has created 1000s of different pages for topics ranging from ABCs to Biology. With such a plethora of different pages available for all ages, you're sure to find the perfect page for any project or subject.
How we use notebooking pages in our homeschool
Three of my children use notebooking pages. My kindergartners- ages four and five, and my 8th grader. I suppose my two uses the notebooking pages too, but . . . well, she's two.
My littles use the Bible figure pages to color while I read Bible stories during our morning time. They've also used the Alphabet Copywork pages, Character Study, Nature (specifically, the leaves, trees, and apple pages), and several others.
My 8th grader has used the Missionary pages during our morning time, and several other pages to enhance her regular subjects. Some she's used include:
Famous Scientists (Archimedes, Louis Pasteur)
USA Study Pages (parks, geography, Indiana-specific)
Science Pages (nature study, anatomy, and parts of a flower)
I also printed out and laminated some of the paintings by Vincent Van Gogh and put them on the wall in our kitchen so they're easily viewed. We try to spend about a month on different fine arts people (musicians, artists. . . ) There are more than ample prints, photos, and pages to go along with every person we've thought of so far. Our next person of interest is John James Audubon- that's going to be a fun one!
Some perks of using notebooking pages
Every child can participate- no matter of their skill level (like my two year old)
Your child can display and show off what they've done/learned to friends and family
They can be used with any subject
They can be used in any grade
They can be used with any curriculum style, from textbook to Charlotte Mason
This has been an amazing experience. I'm so glad to have a Lifetime Membership that I'll be able to use with all of my six children through the next 20ish (wow, that's a long time!) years. Hopefully by then I'll have this homeschool thing figured out. 🙂
We've spent $1,000s on homeschool curriculum and supplies over the years. Most of which (sadly to say) didn't work out and ended up being sold at a loss. The Lifetime Membership to NotebookingPages.com has already proved to be the exact opposite. We use them almost daily- and even more importantly, the children enjoy using them!
Connect on social media:
Click the banner below to read more Crew reviews about the awesome NotebookingPages.com