Do you teach art in your homeschool? It's something I've always struggled with. Not because it's hard, it's just something I tend to put off "for another day". Don't get me wrong- we color, make play dough, and paint occasionally, but I don't teach art. So, I was super excited to get to give ArtAchieve a try. We received the Entire Level II ($53.00 value) from ArtAchieve for review.
Art Lessons for Kids with ArtAchieve
ArtAchieve is a fun way to introduce your children to the different aspects of drawing and painting. I had my thirteen year old daughter work her way through a few of the lessons. Level II is designed with grades 3 to adult in mind. While the lessons aren't hard, some of them are more intricate than others. Below you'll see an overview of the lessons and necessary supplies needed for Level II.
For her first project, Julia selected Lesson 10: Hiding Butterflies. If you notice above, it calls for acrylic paints. We have watercolor, tempura, and cloth paints- but no acrylic. She opted to just sub the paints for colored pencils, and it still came out beautifully!
By the way, there's no need to do the projects in the order in which they come. The lessons don't build upon each other, so it's totally fine to skip around.
About the program
Each lesson has four main parts:
the warm-up
a PowerPoint version of the lesson – this gives you the ability to move through each slide at your own pace
a video version of the lesson – complete with music, sound, and instruction.
and a print out
Each lesson begins with an overview of the standards which are practiced. Then the teacher gives some background and history of the subject piece. For nature-type things, you get kind of a mini nature study. For inanimate objects, you are given lots of information and beautiful samples to look at. Then the goals and necessary supplies for the lesson are discussed. After this comes the warm up. The warm up portion is meant to get the child in the right mindset and practice some of the skills that will be needed to complete the project. They have had their own music recorded to accompany the lessons.
Just before the actual drawing portion comes, the rules are discussed. Rules in art?! Yes. But they are things like:
There are no mistakes.
There is no wrong or right way to to draw.
It's okay to not like everything you draw.
Remember to draw for yourself, not for others.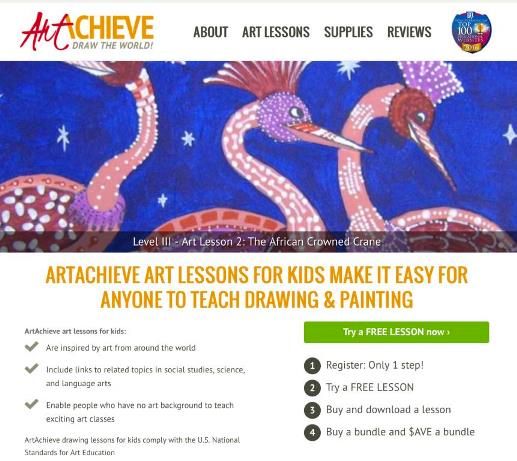 ArtAchieve really does a great job of keeping the whole experience relaxed and enjoyable. 
Julia has totally loved everything about her experience with ArtAchieve. When she first sat down and saw sample of finished projects, she didn't think she could produce anything so pretty. By the time she finished her own project, she was amazed! This program isn't just fun and educational. It's a confidence builder too. We both recommend ArtAchieve to all families- homeschooling or not.
Connect on social media:
Click the banner below to read more Crew reviews about the different levels of ArtAchieve