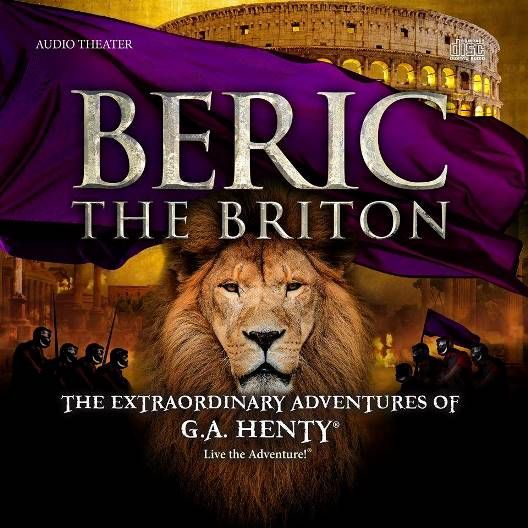 Heirloom Audio Productions 
 is by far our favorite provider of audio books, or more aptly put- audio theater. We have had the opportunity to review several of their other productions including:
With Lee in Virginia
,
Under Drake's Flag
,
The Dragon and The Raven
, and
In Freedom's Cause
. This time we were given their latest release, 
Beric The Briton
, to review. We received the physical CD, and as usual, a whole host of other digital goodies.
Along with the CD, we also received:
an MP3 soundtrack (of the audio drama)
a printable cast poster
a behind the scenes video (fun!)
an extensive 48-page study guide to go along with the audio drama
a copy of Beric the Briton (e-book)
unlimited access to the Live the Adventure website
a printable inspirational verse poster
With all of these extras, enhancing the already amazing story is a snap. As soon as it arrived in the mail, we were all excited to get it into the CD player. We are huge fans of audio stories- especially those from Heirloom Audio.
I love reading aloud to my children, but sometimes I can't right when they want something read, in those moments I reach for an audio story. Having three non-readers in the house (ages 2-5), audio stories are a great way for the kids to still get the benefits of reading aloud, and give mommy a break at the same time.
A word about the study guide
The study guide can be used as a discussion starter (how we used it) or it can take you and your children much deeper into the life and times of ancient Rome. From recipes to vocabulary to Bible studies, there is something in it for every family.
Beric the Briton Audio Drama Review
As per the standard with the other audio dramas from Heirloom Audio, this is a story of faith building and character development. I am so thankful that I can put any of their products in for my children to listen to and know that they are about to hear something historical, wholesome, and entertaining. 
The story of Beric takes place in ancient Rome during the reign of Nero. It is one of courage, faith, and being an overcomer- even when directly faced with skepticism and horrible odds. *Spoiler Alert!* Beric goes from being a slave to a gladiator to a servant in Nero's palace, and eventually a free man again once the emperor dies.
There is no shortage of action and suspense in this 2-hour story!
As usual, the production includes movie quality sound and an all-star cast!
Our entire family (minus daddy because he was at work) listened to the story at least three times- maybe four? I'm not sure. I lost count. However, I am sure of what we all thought. My children are 2, 4, 5, 13, and 17, and we all loved it! After reviewing the other productions from Heirloom Audio, I kind of figured we would like this one just as much as the others, and boy was I right. Granted, the 2 year old was as enthralled as the others, but she was listening and would from time to time try to find the picture that goes along with sound.
We wholehearted recommend Beric the Briton (and the other productions!) from Heirloom Audio to every family, every where.
Click the banner below to read more Crew reviews about Beric the Briton