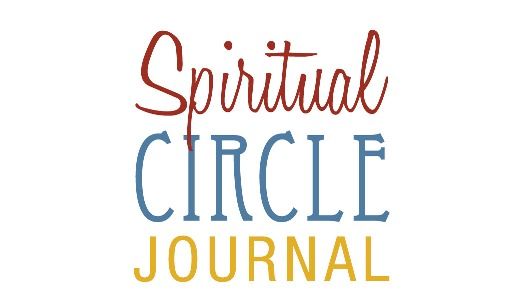 For some time now I have struggled with getting my five year old, Max, to pray aloud with anything other than,
"Thank you for our food. Please keep Daddy safe at work. Help me be good. Amen."
I've tried asking questions like,
"What are you thankful for?" "What do you need God's help with?"
Usually with some probing he would expound a bit more, but the next time he prayed he was back to his standby . . . "Thank you for our food . . "
The Spiritual Circle Journal for Kids & Teens from Spiritual Circle Journal has been a real answer to that need in our family. It is recommended for children who can write on their own, around 8 years old, but I've been very successful using it with my five year old.
The Spiritual Circle Journal for Kids & Teens Review
The goal of this journal is to give kids clear direction on how to have a deep and fulfilling quiet time in about 15 minutes . . .  It is a tool to help anyone, of any age, learn how to listen for and notice God's teaching, guidance, and movement in their everyday lives.
The journal is a fantastic way to get your children into the daily or weekly habit of spending quiet time with God. By filling in the nine journaling spaces, children learn to recognize God's movement in their lives.
The nine pictures:
Journal Entry (cloud) – a place to record general thoughts (He cares about the small stuff, too)
Lyric/Verse (circle) – record a verse or song that caught your attention
Message (Bible) – what's the most important thing learned this week from Bible reading/Sunday School/Sermon?
Confession (heart) – what are you sorry for?
God Moving (car) – how is God prompting/nudging you?
Lessons Learned (light bulb) – aha moments or lessons learned
Prayer (backpack) – anything you need God's help with?
Thank You/Adoration (Post-it note) – a place to thank or praise God
Actions (shoe) – what does God want you to do for others? Something he wants to work in you?
As you can see, the pictures cover a broad area of life for the children to consider how God is moving.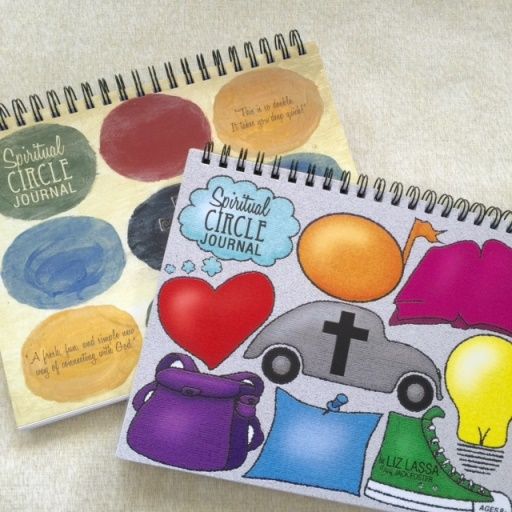 More about the journal:
Custom Cover – Children can make their own custom cover on the blank, thick, white page just behind the cover.
Key – There's a key in the front of the journal to remind the children (and you) what each pictures is for.
Personal Page – This is a fun page where kid scan write information about themselves, such as favorite things, age, height, and include a pictures of themselves.
Journal Pages – There are 65 blank journal pages (enough for one each week, plus a few extras.)
Sumary Pages – At the back of the journal are 16 summary pages. Collect lesson learned, favorite verses, God stories, best moments, etc. . . in those pages.
How we are using Spiritual Circle Journal for Kids & Teens
Obviously, my five year old cannot fill his prayer journal out on his own. This has provided for some great one on one time with he and I. Once a week, usually on Monday, we sit down together and go through each of the pictures. Sometimes I write out his answers, but more often he draws his answers. He remembers what is in each box much more when he draws his answers compared to me just writing them out.
The Spiritual Circle Journal has greatly improved his "prayer life" too. He's not bound by the old fall back (Thank you for our food. . .) and has begun including both big and small things in his life to pray about. It takes much less prompting from me to get him to pray now. (YAY!)
I highly recommend the journal for children of all ages.
Connect on social media:
Click the banner below to read more Crew reviews about the awesome Spiritual Circle Journal for Kids & Teens