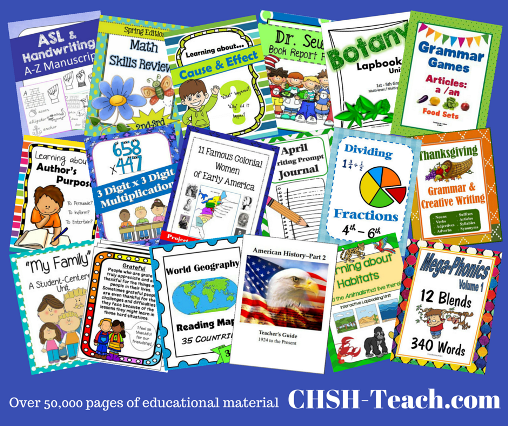 CHSH Download Club
 by 
CHSH-Teach.com
 (Christian HomesSchool Hub)is an excellent online resource for homeschooling families everywhere. With downloadable worksheets, ebooks, activities, and more for every grade from kindergarten to senior year, Christian HomeSchool Hub is a must-have. Did I mention it's only $25 per year or $99 for lifetime access? And either way you go, you get unlimited downloads for you and your children.
Christian HomeSchool Hub Review
CHSH offers over 50,000 pages of educational material. From Geography to Handwriting and Bible Verse Memorization to Holiday Themed Units, there is literally something for everyone. Check out their Download Catalog for to see the full array of subjects and categories available.
How we used Christian HomesSchool Hub
As soon as we received our access to CHSH, I logged in to figure out what we'd be working on first. You can search by grade level, month (themed units), or subject. From perusing the Download Catalog before hand, I knew I wanted to look into the anatomy stuff. My kindergartners are very inquisitive when it comes to the workings of the human body, particularly the digestive system.
There is just so much to choose from! Within the digestive system section are lapbooks, coloring books, diagrams, e-books, and all kinds of other activities. We decided to start with some life-size internal organs. They included the large and small intestines, left and right lung, liver, gall bladder, stomach, and the heart.  We printed out the organs and a description of what each organ does. I read about the organs as the kids colored their papers.
I got some poster board from the Dollar Store. Each child laid down on their own poster board and I traced their bodies. We cut out their organs and tried to match up where they would go on their little bodies. We pasted, colored, and labeled the boards. The end results were quite neat!! It took us a couple of days to get through the whole process but it totally worth it. These are something that will hang on the school room wall for a while.
Other than the anatomy activities, we also used a few of the handwriting and counting pages.
Overall, this has been a great experience with Christian HomeSchool Hub. I was so surprised by the quantity of different things available. As a member, I also get access to anything new that is produced during my membership. I look forward to using CHSH with my other children, too.
Connect on social media:
Facebook Group: https://www.facebook.com/groups/TheChristianHomeSchoolHub/
Facebook Page: https://www.facebook.com/ChristianHomeSchoolHubPage/
Twitter: https://twitter.com/TeachWithCHSH
Pinterest: https://www.pinterest.com/lyndaackert/chsh-teachcom-creations-by-lackert/
Google+ Group: https://plus.google.com/b/117967118184286217472/communities/108322787218266183941
Google Business Page: https://plus.google.com/u/0/b/117967118184286217472/117967118184286217472/posts
Linked-In: https://www.linkedin.com/in/lyndaackert
Tumblr: http://christianhomeschoolhub.tumblr.com/
Click the banner below to read more Crew reviews about Christian HomeSchool Hub