This school year I have two kindergartners, a toddler, and a baby to go along with my older kids. To say my days are full and my attention is stretched is an understatement. But like most mothers, I wouldn't change it for the world!
Because both of my older kids are in high school now, with one graduating in May (!), their work is harder and more time consuming- which translates to them needing Mom more often. Thankfully, there are companies like HelpTeaching.com who provide fun elementary printables (busywork!) for my littles while I work with the bigs. We received the Help Teaching Pro Subscription in exchange for a review. 
Elementary Printables from HelpTeaching.com
HelpTeaching.com has made it super simple to grab a few pages to keep my littles busy (and learning!) so I can get some other things done. Whether it be dishes, helping an older kid with science, administering a spelling test, or grading papers, HelpTeaching.com has come to the rescue time and time again.
What is HelpTeaching.com?
It's a website for teachers, tutors, homeschoolers, and students that's full of printable and online tests, activities, lessons, and games for Pre-K – 12th grade.
With the Free Membership you'll have access to over 3,000 worksheets. Their printable worksheets offer a wide-range of content covering the four basic subjects – English/Language Arts, Math, Science, Social Studies. There's also a large variety of other subjects, like Early Education, Art, Music, and Study Skills. The content is organized by grade-level.
You can use their free printable worksheets in conjunction with the Test Room feature to give online assessments or just print them out.
The Test Room
is where you schedule, administer, and evaluate tests that are given online via email or a public link. The Test Room is NOT included in the Free Membership.
With the Free Membership you can create up to 10 questions per quiz/test, but with the Pro ($24.95/year) you are allowed up to 100 questions. You also have the ability to use images on the test, save your tests as PDFs, and search content by Common Core Standards.
How We Enjoyed the Elementary Printables
As I said, I was able to print worksheets for all three of my littles. My toddler liked the color matching and shape matching pages.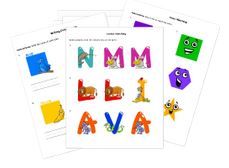 And my 4 and 5 year olds liked the handwriting and simple mathematics pages. We also used a few of the number charts to work on skip counting. There's a whole section about Thanksgiving/Fall that we will be using soon.
Our Impression of HelpTeaching.com
Overall, this has been a great experience. I have been able to pick out and print a few worksheets on Saturday (when I do my homeschool planning for the upcoming week) and have them ready to pull out as needed. There's so much on the site, and new material is constantly being added.
Not too long ago, the Crew did a review of the upper grades material on HelpTeaching.com. Be sure to check it out!
Connect on social media:
Click the banner below to read more Crew reviews about HelpTeaching.com