Homeschool foreign language curriculum is far more available than it used to be. Over the years we have used several different products, but today I'm going to tell you about one of my favorites . . . Middlebury Interactive Languages. We received High School Spanish I (Grades 9-12) for review. My son worked through the first semester a little while back, and now my daughter is giving it a go!
Julia is in eighth grade this year; however, she is primarily doing high school level courses. Oscar liked Middlebury so much the last time we used it, we jumped at the chance of reviewing Middlebury again this year.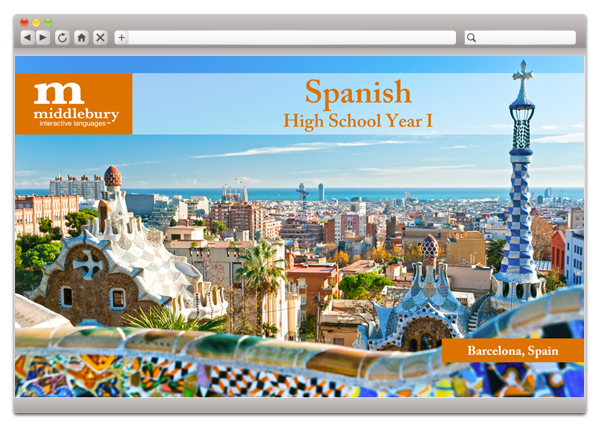 Homeschool Foreign Language from Middlebury Interactive
Having a credit or two of foreign language is necessary for most college admissions. So if it's something you have to do, you might as well do in a fashion that makes it enjoyable. Middlebury has done that for us.
The homeschool foreign language program is divided into two semesters. Each semester has 18 units, and each unit has 5 lessons. The lessons vary in length. Each unit contains quizzes in lessons 3 and 4, and a test in the fifth lesson.
Before I set Julia up to start, I went through the first few units myself. The Spanish program progressed in a natural way, which is nice. If you look at the screenshot below, you'll notice a button in the bottom right corner entitled "script". If you click that, it opens a PDF in another window that gives you a recap of the lesson- complete with tables of new words/concepts covered.
Being that there are 5 lessons, I figured she should complete one lesson a day. Just looking at the amount of work in each lesson, at first I thought this would not be an easy task. But she proved me wrong!
She blew through lessons! At one point I had to stop her. I love that she loves the program, but I also don't want her taking in too much at a time and not remembering what she has learned.
What we thought
Spanish I is great. I'd definitely call it multi-sensory. You type, you speak, you think, you can print and read along while they teach. I also appreciate that the lessons mix things up. They aren't all the same.
There is also a printable grading sheet you as a parent can print out and fill in as your child moves through the program-  super helpful for those necessary high school records and eventual transcripts.
The website states "Middlebury Interactive courses are not credit-bearing". I disagree with that wholeheartedly. As a mom homeschooling through high school, I would totally call this credit-bearing. One of the many great things about homeschooling is that you, as the parent, get to establish what counts as school. Whether it be gardening, auto mechanics, or Spanish, what counts as credit for school, is completely up to you. As for me, I am putting this on her transcripts, based on completion.
Middlebury Interactive is one of those homeschooling gems that every family should know about. It's fun and effective. I plan to spread the word about this great homeschool foreign language program.
Connect on social media:
Click the banner below to read more Crew reviews about Middlebury Interactive