Internet Accountability has become a necessary thing in today's world. With so much evil and temptation at the click of a button, having accountability with friends or family members is something we all need. We've been given the opportunity to review the Family Plan from Accountable2You.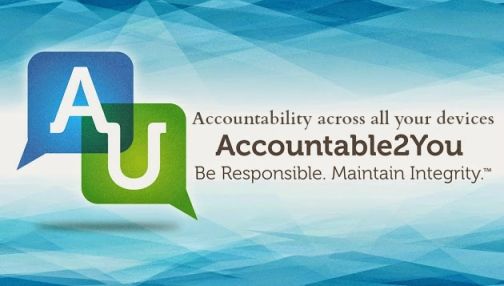 Internet Accountability with Accountable2You
We all know the song . . . "Oh be careful little eyes what you see . . . Oh be careful little ears what you hear . . . Oh be careful little feet where you go . . ."
It's just a simple preschool nursery rhyme, right?
I don't think so.
It's a way of life. It's a warning from God. The later verses include, "For the Father up above is looking down in love . . ." He sees us. He knows what we think and what we say. This song is sung to little ones but it is just as valid for adults.
We do need to be careful what what see and hear. Because what goes in will come out.  Whether it's a bad word we heard in a song, or an explicit scene in a movie, what goes in will come out. It will come out in our thoughts, our words, and eventually our actions. We have to be so mindful of what our children do and see. We have to be mindful of who our children hang out with and where they go.
Accountable2You is a parent's best friend. Simply download the software onto (almost) any phone, tablet, or laptop and it will keep track of every activity- both questionable and not.
The family plan came with the option of installing the software on up to 20 devices. I installed it on:
My Android
My iPad
My son's Android
My daughter's Android
My Chromebook
The family PC
Each device has it's own 24-hour reporting with real-time alerts (if questionable activity takes place) to chosen accountability partners. There's also GPS tracking that can be activated on any of the devices. This has come in handy more than once. While we love our teens, sometimes you just have to check on them. Hopefully they are where they say they are. If not, well, you'll know it.
Some great features of Accountable2You
Accountability partners
Real-time alerts
Full activity reports
GPS tracking
Time limit alerts
Which devices are supported?
Chromebooks (yay!)
Windows (XP, Vista, 7-10)
Mac
iOS (iPhones, iPads, some iPods)
Android
Linux

Which plan is right for you?
There are four different plans available: Individual, Family, Group, Small Business. Here's a quick overview of each plan:
$6.99/month
up to 6 devices
$9.99/month
up to 20 devices
$9.99/month + $2.00 per member (There is special pricing for groups (like churches) with more than 100 members)
6 devices per user
$14.99/month + .99 per device (Special pricing for non-profit organizations)
unlimited devices
Using Accountable2You has been eye opening for me. I'm so thankful for the program and all the details it gives. It literally tracks everything. Every app opened, every button tapped, every game played, if it's turned off (because it can be) . . . EVERYTHING.
I wholeheartedly recommend Accountable2You to every family- homeschooling or not.
Connect on social media:
Facebook:  https://www.facebook.com/accountable2you
YouTube: https://www.youtube.com/c/accountable2youllc
Click the banner below to read more Crew reviews about Internet Accountability with Accountable2You