Thursday night at our house is Game Night. We have a bookshelf full of games that we cycle through. We all have our favorites and love adding to our collection. Our most recent addition is Commissioned from Chara Games.
Commissioned is a 2-6 player, historically-themed, cooperative-style board game with a simple deck-building mechanism that plays in about 1 hour. Players are the early Christian Apostles, and must work together to: strengthen their faith decks, grow the Church, collect the books of the New Testament, and overcome trials. You do not need to know anything about Christianity to play the game. Recommended for ages 14 and up.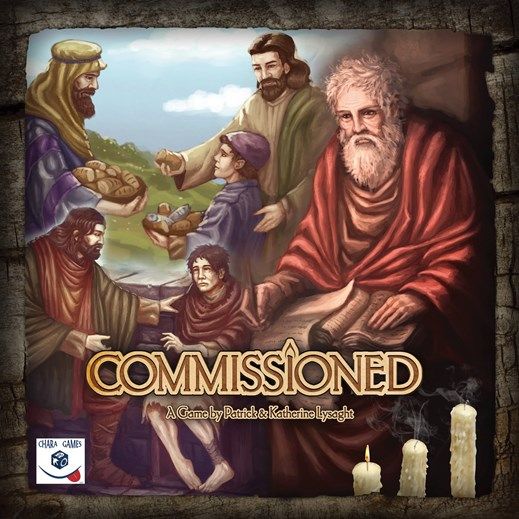 Commissioned Review
Let me start by saying that Commissioned is a behemoth of a game. When I first opened the box, I was taken aback by the number of elements in the game. I have played games that take a while to play, like Monopoly, Settlers of Catan, and Risk, but I don't know that I've ever played a game with so many different components. While it does take a bit to get started (like reading a 12 page instruction manual and watching a 27 minute YouTube video-twice), the game is a lot of fun!
Once you finally get things set up, it will look like this: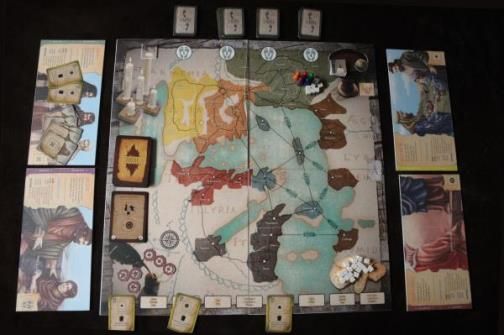 Included in the game is:
1 double-sided game board
5 double-sided scenario cards
6 unique player boards (Andrew, Barnabas, James, John, Paul, and Peter)
96 faith cards
27 trial cards
4 wooden missionaries
75 wooden cubes (church members)
1 wood Elder's staff (this designates the active player when taking turns)
6 wooden pawns (each color coded to the apostles)
30 double-sided stop tokens
5 double-sided extinguished tokens
1 converted city leaders token
1 roman legion token
1 8-sided die
1 rule book
1 theme appendix (this explains some of the historical background around the people, places, and events depicted throughout the game)
Here's an overview of the game and the rules:
As he mentions in the video, we played Acts of the Apostles in easy (disciple) mode. So our games were very similar to the one they played in the video. Once we get a better grasp of all the different trial cards we will switch it up and play different scenarios- and maybe even venture onto martyr mode.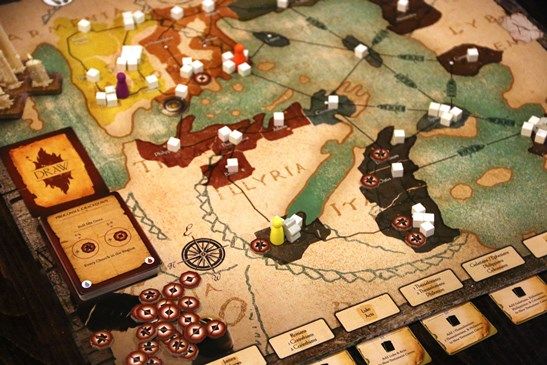 We played the game through the first time and lost. We played the same scenario two more times and did much better. As he mentions in the video, the goal of Acts of the Apostles is to have a church in every city and collect all the New Testament cards. That's harder than it sounds!
What we though of Commissioned
First and foremost Commissioned is a wonderful tool to bring the family closer together with fun and biblical learning. The pieces and board are extremely well-made. At just $44, I am amazed that they were able to create such a well-made game and still have a profit. I suspect it will last many years.
With so many different ways of playing, it's sure to never get boring- and always be a source of biblical learning and fun for the family.
I wholeheartedly recommend this game to every family! Also, be sure to check out Chara Game's newest game, 3 Seeds.
Connect on social media:
Facebook: https://www.facebook.com/CharaGames/
Twitter: https://www.twitter.com/CharaGames/ @Charagames
Click the banner below to read more Crew reviews about Commissioned