Can you believe that Thanksgiving is right around the corner? This year has flown by. I feel like if I blink it will be Christmas morning! I walked into Walmart yesterday and the Christmas decorations were already out. It's like we (as a country) go from Halloween to Christmas and skip poor Thanksgiving.
Not so for our family though! We don't do Halloween and Thanksgiving is a month long learning opportunity. For the entire month of November, we focus our homeschool around Thanksgiving. We get books, movies, and audio books from the library. We paint and color Thanksgiving-type pictures. So when we were given the opportunity to review Thanksgiving with the Pilgrims Once-a-Week Micro Study  from Homeschool Legacy, we were all over it.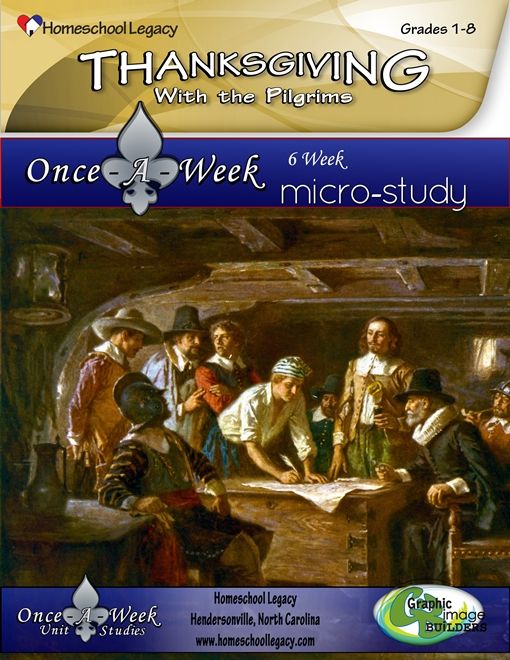 Thanksgiving with the Pilgrims ~ A Unit Study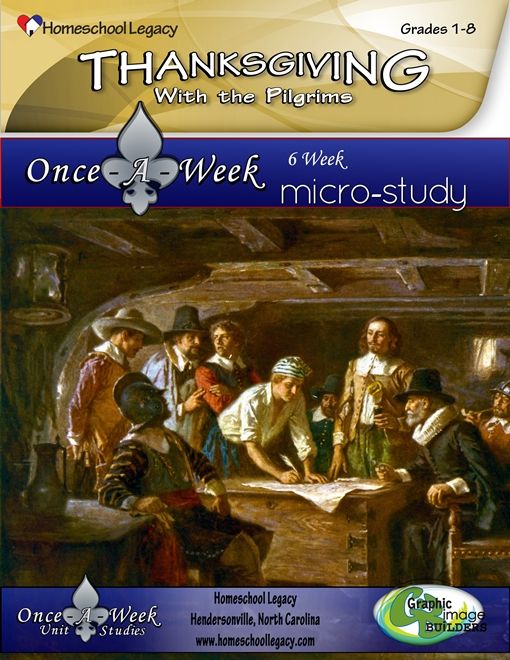 I began prep for the Unit Study by reading through it. The six-week break down is:
Week 1: The Scrooby Separatists
Week 2: The Voyage
Week 3: At Home in Plymouth
Week 4: Happy Thanksgiving
Week 5: The Puritans
Week 6: Merry Christmas
Thanksgiving with the Pilgrims is primarily a history supplement to do once a week. It is designed for grades 1-8. Through the simple yet thorough study you'll work on history, geography, Bible, vocabulary, government, and even make a recipe or two.
Some activities included in the study are:
locating countries and bodies of water on a map
reading LOTS of books 🙂
looking up new words in a dictionary
taking virtual tours – like the Mayflower!
watching documentaries/movies
making and playing games that the Pilgrim children played (fun!)
making and eating some delicious foods
learning to speak like a Pilgrim
and lots more!
How we enjoyed Thanksgiving with the Pilgrims
We ready many books from the library, watched several pilgrim movies (like Charlie Brown's Thanksgiving and Inspiring Animated Heroes' William Bradford). We also made some delicious Indian Pudding.
It is recommended that you work 30 minutes at a time for roughly three days a week to complete each week's work. After reading the history lesson for the week and then having the children narrate, we also took time to read books and draw inspired pictures. There's no way we could fit everything into just 30 minutes/three times a week.  But then again, our homeschool is more delight-directed than scheduled.
We've used several of the Homeschool Legacy studies before and have always enjoyed them. There's just the right mix of reading and activities. The enrichment suggestions are always spot on too. These are wonderful studies to bring just the right amount of supplement material into your already focused homeschool.
This six-week unit study is one of the several Once-a-Week Micro-Studies available from Homeschool Legacy. You might also like:
Pirates or Privateers: You Decide
Cooking up History with the Founding Presidents
Connect on social media:
Facebook: https://www.facebook.com/homeschoollegacy/
Click the banner below to read more Crew reviews about the awesome products from Homeschool Legacy