Homeschool math is probably the one subject that I've spent the most money on during our homeschooling years. Some families get it right on the first try, not us. In the six years we've been homeschooling, we've tried at least two dozen different math programs. Some lasted a semester, while others lasted less than a week. Matching learning styles and preferences with a math program is probably one of the hardest things to get down as a homeschool mom- curriculum wise.
Lately, we've been using Math Mammoth. Math Mammoth is a maker of math workbooks and worktexts for grades 1-12. All of the books are offered in digital format, and most are available as printed books. We received the following three books in the Blue Series for review: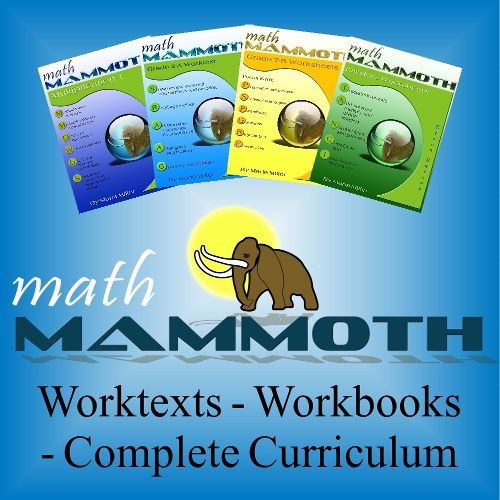 Math Mammoth – Homeschool Math for All Ages
Once we received access to our digital downloads, Julia (8th grader), decided to start with the Integers workbook.
Let me take a moment right here to tell you that normally, math makes Julia cry. Just me telling her to do her math can bring on the tears.
Now, that being said, we started the workbook together just to be sure we were both on the same page with what was going on. We started with the first lesson- Integers.
Another note- the books aren't laid out by lesson number, but by concept.
The concepts covered in Integers are:
integers
addition and subtraction as movements
adding integers 1
adding integers 2
subtracting a negative integer
coordinate grid
multiplying integers
dividing integers
graphing
graphing linear functions
there are also two reviews
Each concept is 2-5 pages long.
Once we got a handle on how the lessons worked, I set her free to do it on her own.
Do you see that happy little person right there? Not only did she grasp the concepts easily, she enjoyed herself!!
When I questioned her about what she liked best, her first response was the counters. She said they really cleared things up for her. Julia has encountered some of this math before but always struggled. Math Mammoth has put an end to her struggling.
She finished the Integers workbook in about three weeks. She worked her way through one lesson at a time. Some are quite short, but that's okay. It's great for building confidence.
We've since moved onto Percents. This one is taking a bit more concentration and time to complete, but she's still learning and NOT melting down. Yay Math Mammoth!!
Percents covers:
Percentage of a Number (Mental Math)
Percentage of a Number: Using Decimals
Discounts
Practice with Percent
Finding the Total When the Percentage Is Known
Solving Basic Percentage Problems
Percent Equations
Circle Graphs
Percentage of Change
Percentage of Change: Applications
Comparing Values Using Percentages
and Two Reviews
Once we complete this workbook we'll move onto Rational Numbers.
Rational Numbers Covers:
Fractions and Decimals
Rational Numbers
Adding and Subtracting Rational Numbers
Multiply and Divide Rational Numbers 1
Multiply and Divide Rational Numbers 2
Many Operations with Rational Numbers
Scientific Notation
Equations with Fractions
Equations with Decimals
And a Review
Math Mammoth currently has 46 different books in the Blue Series. They offer a discounted bundle deal if you want them all.
If you aren't sure where to start your child, Math Mammoth offers a placement test with easy instructions for grading.
I wholeheartedly recommend Math Mammoth to every family- homeschooling or not. The techniques in which they present and teach the information is easy to follow and almost fun to complete. Math Mammoth has become a go-to resource for our homeschool math.
Connect on social media:
Facebook – https://www.facebook.com/MathMammoth
Google+ – https://plus.google.com/+mathmammoth
YouTube – https://www.youtube.com/mathmammoth
Click the banner below to read more Crew reviews about the many homeschool math supplements available from Math Mammoth