Times Alive is an online math supplement that utilizes online lessons with animated songs and stories to learn the Times Tables the Fun Way.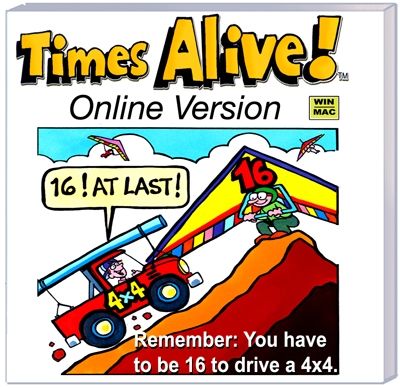 Times Alive (the online version) is the result of the high demand of its
book counterpart
. Back in 1992 Times Tables The Fun Way was created and began changing math for students in the United States. With the simple premise of using stories and pictures to aid in times tables memorization, the book was a huge success.
Over 100,000 copies of the book have been sold to parents, schools, and teachers. The next step was to make the amazing product accessible internationally. Enter Times Alive online. The online version is a wonderful compilation of songs, games, coloring, and more. This math supplement is sure to be a hit around the world.
Here's an example of one of the catchy songs from Times Alive:
How we used Times Alive
My five-year-old is uncommonly good with math. Somehow he has managed to learn many math facts without any formal teaching. Therefore, my original thought was to use Times Alive with him. He sat through a few different lessons on different days and seemed to enjoy it.
Memorizing the times tables was no issue. He picked them up fairly quickly. It was later when it came time to take quizzes and he was required to use the keyboard that he got frustrated. I tried to help him by typing the answers as he gave them to me. That didn't last long. Although the online version isn't exactly working for him, the DVD would be beneficial in his case.
As you can see in the Lesson List screenshot below, there are many different activities that students complete along the way. Coloring pages, songs, stories, games, and quizzes all have their part in the teaching process.
Because the five-year-old fizzled out with frustration, I also had my 14-year-old hop on and give it a go. She wasn't entirely impressed, but then again, the program wasn't meant for 14-year-olds who aren't struggling with math facts. She sat through a few lessons but ultimately decided she wasn't interested.
What did we like about Times Alive?
the program keeps track of your student's progress, scores, times, and dates of completion
students learn all the times tables from zeros through nines
you can use one subscription for multiple children
the catchy songs and fun stories help reach children of all learning styles
not a lot of time is required- 20 minutes a day (or one session), twice a week is all it takes to master the times tables
the price is just $9.95/month (plus a one-time setup fee of $6.95)

Also in the Times Alive store:
Times Alive Software (does not require internet) for Mac & PC ($58.95)
DVD movie featuring 32 of the times tables videos ($29.95)
Basic Kit for Times Tables (great for homeschoolers!), includes the book, student workbook, and flashcards
Plus many more products to help you teach your children the times tables, the fun way!!
Using Times Alive has been an enjoyable experience. If my children were more in the right age/skill level range for this, we would be all over it. The teaching is sound and the memorization sticks thanks to the fun stories and catchy songs. I highly recommend Times Alive to families everywhere- homeschool or not.
Connect on social media:
Click the banner below to read more Crew reviews about Times Tables the Fun Way