Now and then something new makes its way into our homeschool routine. Sometimes it is loved by few, others it is loved by many, and very rarely, it is loved by all. Creating a Masterpiece is once such rare gem that has been loved by all.
For as long as I can remember, I've wanted to incorporate more art into our homeschool. In fact, two of our Rule of Six are create and encounter beauty. You'll find art under both of those categories. What's held me back all these years is that I'm just not a naturally artistic person, and I'm not all that creative either. So when the opportunity to receive a Monthly Plan ($39.99/month) for a web based fine art curriculum designed specifically for children and teens, I was all over it.
The Monthly plan includes access to all projects in all levels- Beginner to Level 5, plus Art in History. There are over 144 lessons! Projects are broken into lessons that take roughly an hour each.  The Beginner projects can be completed in one lesson.  The others range from three to seven lessons.  The majority of the Level 1-5 projects are 3-4 lessons.
There is also an Annual Plan (access to everything, but at an annual rate), and an Individual Plan if you want to purchase one level at a time.
What did we think of Creating a Masterpiece?
Well, firs
t off, it's amazing! We have done numerous different projects now and have not been disappointed with a single one. Creator, Sharon Hofer, has 15 years of teaching background. Through short-ish lessons, Sharon instructs students of all ages how to create real art. This isn't arts and crafts time. This is real, bonafide art. 
The projects are lovely, and when several people do the same project together, they all turn out somewhat unique. We did some projects as a family, others just one child and I did, and I have plans to do some more on my own! Painting is so therapeutic! I had no idea I would enjoy it so much.
The only possible downside to this program was all the supplies we had to purchase. On one hand, there was a significant out of pocket expense to get the basic supplies to do several different projects, but at the same time, my art cabinet is very well stocked now.
So, I wouldn't say it was an issue or a reason not to like Creating a Masterpiece. It's just something to be aware of.
Some supplies we needed and purchased were:
acrylic paints
gouache
watercolor paints (and not the .99 trays!)
pastels
specific papers, like watercolor and acrylic
canvases
paintbrushes of varying size and shape
painting scraper/knife – we didn't purchase this and later SO WISHED I HAD (I will be buying one in the future)
spray fixative
gesso
Everything we needed was easily found at Walmart or Michaels. Thankfully, Michaels was having a sale on their paint supplies the day we went, so our out of pocket expense was roughly $50. BUT, we have everything we will need for many projects to come!
A couple of our projects
 As you can see, our projects came out VERY different. Of course, my four-year-old did take a bit of artistic liberty.
We had quite a bit of fun painting in our pajamas. Why paint in our pajamas? Well, when you have two younger siblings ages two and six months, you do what you have to do to get some one on one time with mom!
Below you'll see how Sharon's looked.
This was us working on the Shooting Stars project. We used gouache. I'd never even heard of it before this!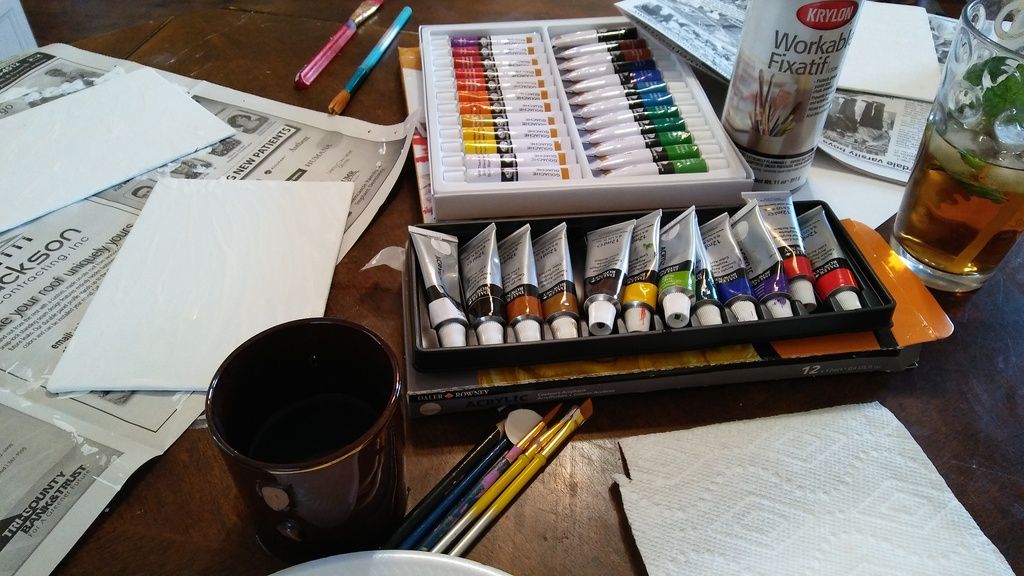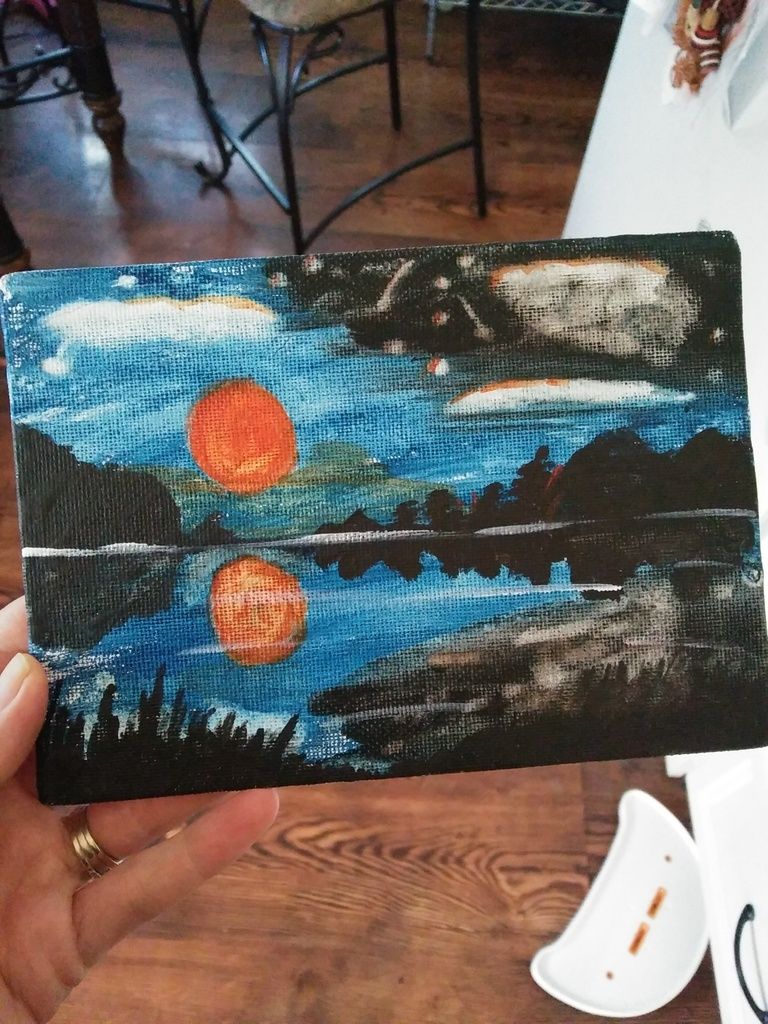 Every member of our family has absolutely enjoyed Creating a Masterpiece. I love the real art that is produced through the easy step-by-step lessons. Truly, just about any age and experience level can create masterpieces through this program. Definitely, one to keep!
Connect on social media:
Facebook:  https://www.facebook.com/createamasterpiece
Click the banner below to read more Crew Reviews about many of other projects done through Creating a Masterpiece