One of the many benefits of homeschooling is the ability to teach my children whatever I want. We can read a book and then spend a week or two following rabbit trails that sparked our interest. If we get curious about something, there is nothing stopping us from learning about it until our hearts and minds are content.
This is a great blessing in that my children (and I) will have a vast knowledge that far exceeds the borders of what is taught in public school. One such subject is Greek Mythology. We have owned children's versions of Homer's epic poems for years, but until recently, we never dove any deeper. We received the Iliad & Odyssey Complete Set from Memoria Press for review a few weeks ago, and it was just in time! There's just something about the dreary February and March months that make this mama need some change in the homeschool scene.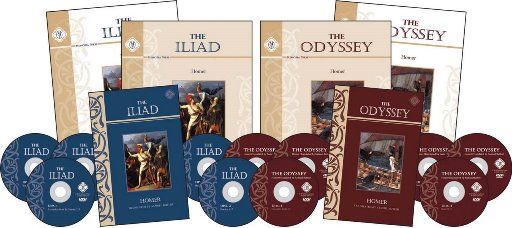 Greek Mythology with Iliad & Odyssey Sets from Memoria Press
We (my 8th grader and I) took this opportunity to replace her regular history and literature curriculum with Odyssseus' grand adventures.
In our set, we received:
Iliad (translated by Samuel Butler)
Iliad Student Guide
Iliad Teacher Guide
Iliad DVDs
Odyssey ( also translated by Samuel Butler)
Odyssey Student Guide
Odyssey Teacher Guide
Odyssey DVDs
Julia and I sat down together to flip through the teacher guide, student guide, and the book itself. We used to just dive in when we began units like this. That never ended well. We've learned to take the time to peruse the workbooks and guides to be sure we are both on the same page with what is coming up and will be expected from each of us.
As recommended in the teacher guide, we began reading The Odyssey aloud. Sometimes she read, and sometimes I read. It was quite tricky at first, but after a few days, we got used to the writing style. Although we consulted Google daily for correct pronunciation of names and places. We read for about an hour a day, four to five days a week.
We also watched the DVD course as needed. There are six DVDs for The Odyssey and are taught by Sean Brooks. The DVDs are a wonderful tool! Mr. Brooks is an excellent teacher and his lectures easily relay the background we needed to understand the Odyssey. He lectures on each book, giving us a better grasp of the themes and culture of that time period.
There are 24 books in the Odyssey. Each book has its own set of workbook pages in the student guide. The pages follow roughly the same setup:
Identify Places and Characters – matching the who and the where with the correct descriptions
Comprehension Questions – these questions are simply about the text that was read
Quotations – memory work
Discussion Questions – sometimes opinion based, sometimes not
Normally, I am not a fan of question and answer type learning. However, this time I made an exception. This type of book and the knowledge that comes with it, I felt needed the reinforcement of recalling answers for the matching and questions.
The teacher guide says both books can be completed within 18 weeks, as long as you work 4-5 hours per week. I'm betting it's going to take it a bit longer. This is a big change from our normal day to day schooling. There is a lot of memory work involved with it, and memory work isn't exactly our strong suit. BUT! We plan to keep on trucking through our Greek Mythology!
Also included in our set was the Illiad and it's companion materials. While The Illiad takes place before The Odyssey, we chose to start with The Odyssey first simply because it is shorter and (from the teacher guide) appeared to be the easier of the two to start with. The student workbook is laid out exactly the same way as that of The Odyssey.
A word about the teacher guide, it truly is a guide! Sometimes the teacher book is labeled as a guide but is actually just an answer key. Not so with these, and I am so thankful for that! There is a plethora of explanation and extra helps in the guides. Also super helpful is that there are miniaturized versions of the student book pages within the guide- love that! I hate having to look back and for the between my book and hers to make sure we talking about the same thing.
This has been and continues to be a wonderful review item. We intend to keep up our Greek Mythology study through the rest of this year. Thank you, Memoria Press, for such a great resource!
Connect on social media:
Facebook: https://www.facebook.com/memoriapress/
Instagram:  https://www.instagram.com/memoriapress/
Twitter:  https://twitter.com/MemoriaPress  @MemoriaPress
Pinterest:  https://www.pinterest.com/memoriapress/
Click the banner below to read more Crew revies about the other products offered this timea round from Memoria Press