Every homeschool mother I know is on a continuous journey of developing and improving their homeschool. We've been at it nearly seven years now and I still seek out "homeschool mom" books to read. Along with books, there are some great e-courses out there to help you find your niche at home. Homeschool Rescue from Only Passionate Curiosity is one such course that helps you reset your homeschool when things have gone awry. And trust me, eventually, things will go awry.
Through short videos, resources, and engaging note pages, Homeschool Rescue helps you start making a plan to move forward with less overwhelm, less guilt and less stress. I think that's something every homeschool mom can use!
Reset Your Homeschool With Homeschool Rescue
Within the course, you'll find five modules with three or four lessons each.
Each lesson includes:
a short video -the videos vary in length. Some are about 20 minutes long, while others are just over 6 minutes.
homework for you – simple worksheets to help you identify problem areas, brainstorm new ideas, find out what's most important, etc . . .
suggested resources – one of the books she refers to often is The Five Love Languages of Children. I've had the book for years but never read it. Working through her course has made me realize that I need to get it read – soon.
You also have the option to download the audio and/or transcript for the lesson, as well as the homework pages. Below you'll find a screenshot inside one of the lessons.
This particular lesson was really good for me. I would consider myself a somewhat strict mom, but my lack of consistency gets us into trouble somtimes. I also tend to give a blanket punishment for a wide variety of misbehavior- she had a wonderful point in that I should be giving consequences that fit the punishment. Below is one of her slides from that lessons. I have written these down and plan to brainstorm more for their usual crimes.
There is also a Bonus Materials section that includes access to a members-only facebook group, email support, printable mom planners ( 10 different styles!!), to-do lists, and student planners.
I made my way through the first four modules. While the first couple didn't bring any "aha!" moments, they still held some good reminders. Module four was by far the most applicable to our current season.
Having six children- 8 months, 2, 5, 6, 14, and nearly 18, being consistent with obedience issues is critical. This course has helped me see that and given me a great head start in achieving that goal.
Do you need to reset your homeschool?
You might consider taking the course if:
you're worried if you're doing enough

your current routine isn't working out

school is a struggle to get through each day

you're feeling tired and overwhelmed with school

burn out has crept in and left you feeling frazzled and fed up

you know it's time for a change, but don't know what to do
If you still aren't sure, take a look at what all is offered to help you reset your homeschool . . .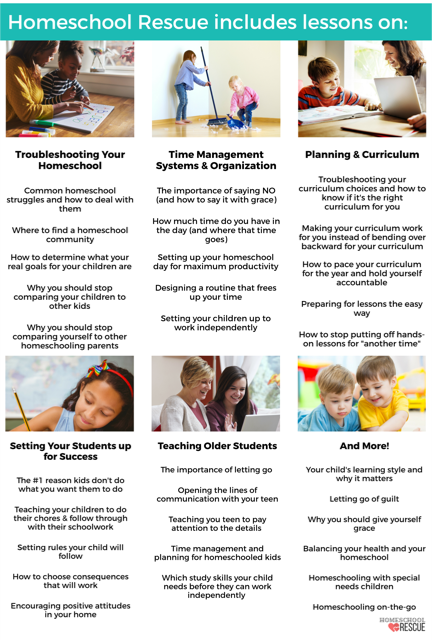 So how do you get Homeschool Rescue?
The five-module course is $97 dollars. With that, you get lifetime access to the course and the Facebook group. There will also be a VIP option for a slightly higher price with one-on-one coaching and support.
As an (almost) veteran homeschool mom I can appreciate the scope of thiscourse. I wish I had something like this availale when we were just srtarting out seven years ago.
Connect on social media:
Facebook:  https://www.facebook.com/OnlyPassionateCuriosity/
Twitter:  https://twitter.com/opchomeschool
Pinterest:  https://www.pinterest.com/OPChomeschool/
Instagram:  https://www.instagram.com/onlypassionatecuriosity/
Goggle+:  https://plus.google.com/b/110290451358830656260/+OnlypassionatecuriosityHomeschool
Click the banner below to read more Crew reviews about Homeschool Rescue