Institute for Excellence in Writing (IEW) is easily my favorite vendor when it comes to teaching my children to write. We have reviewed their items in the past and have always been delighted. This time around, we had the pleasure of giving their High School Essay Intensive a go. Having a love/hate relationship with writing essays myself, I have to say, I was eager to see what the program had in store.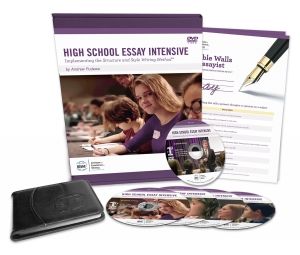 Let me start by saying this has been incredibly timely for us for two reasons. My oldest son is finishing up his senior year and will be heading off to college soon. My oldest daughter will be beginning high school in the fall. My plan for the review period was to work through the Personal Essay portion with my son and then purchase more of the consumables to use with my daughter in a couple of years as she prepares to take the SAT.
The Essay Intensive includes 5 DVDs with 6.5 hours of content, student handouts, and Portable Walls for the Essayist.
There are four separate sections in the program:
General Strategies for Essay Writing
Understanding and Preparing for the New ACT Essay
Understanding and Preparing for the Redesigned SAT Essay
Strategies for the Personal Essay
What does each section cover?
General Strategies for Essay Writing: Length and Structure
Initial Exercise
A Hurt and Rescue Operation
What is an essay?
Two Questions Writers Need to Ask
Translating Assignment Length to Paragraphs
Types of Paragraph
The TRIAC Paragraph Model
Essay Models
General Strategies for Essay Writing: Invention and Style
Canons of Rhetoric
Invention
Practicing Common Topics of Invention
Practice with TRIAC Outline
Style
Sentence Patterns
Literary Devices: Schemes and Tropes
Practice with Sentence Openers and Figures of Speech
Understanding and Preparing for the New ACT® Essay
ACT General Guidelines
The Assignment
Strategies for Planning
Strategies for Writing
Strategies for Proofing
Understanding and Preparing for the Redesigned SAT® Essay
General Guidelines
The Assignment
Annotating
Handy Annotation System
Annotating Practice
Strategies for Planning
Strategies for Writing
Using Effective Vocabulary
Strategies for Proofing
Strategies for the Personal Essay
General Guidelines
Sample Essay Prompts
Strategies for Planning: Pop out from the Crowd
Strategies for Writing, Editing, and Proofreading
A Not-So-Secret Secret
Final Practice
Concluding Comments
Last Bits of Advice for Life
IEW Makes Writing Essays Easier
As my son and I watched the fourth disc about personal essays, I was surprised by how much I didn't know when it comes to college application essays. Considering things like who will be reading the essays (admissions counselors) and brainstorming ways to stand out from the crowd are a couple of things I hadn't previously thought of.
I didn't go to college until I was in my late 20s, so by then the whole entrance process was different and I was considered an "adult". I never had to write such essays to get in.
The Personal Essay part of the program has proved invaluable to him as a student and me as a parent trying to wade my way through this seemingly eternal bog of transcripts, course descriptions, FAFSAs, scholarships, and college applications. As I make my way through this climactic ending of homeschooling my son (still have five more to go!), any help along the way is greatly appreciated.
What Can You Expect From High School Writing Intensive?
The DVDs are a recording of a live workshop given by Andrew Pudewa to high school students. We started with disc four, but after finishing it, we felt the need to go back and watch part 1 – General Strategies For Essay Writing.
As per the norm with Mr. Pudewa, the lectures are anything but boring! He is a phenomenal teacher. He holds our attention and makes the learning experience a memorable one.
Throughout the first (and longest) part of the program, Mr. Pudewa covers the seven different types (expository, descriptive, argumentative, persuasive, analytical, narrative, and personal) of writing with examples of each.
He walks you through the process of writing essays, with very detailed examples, and covers the questions you need to ask yourself before writing anything.
Mr. Pudewa takes essay writing from an insurmountable, cry-worthy task to a simple, structured process that when followed, is bound to lead to success.
What Did We Think?
I wish I had this years ago. I wish we had watched these DVDs when he was just beginning high school and then again when it came time for SAT prep. Not only is the information grand, and the teaching effective, but it's entertaining!
At one point my daughter had wandered into the room and sat down to watch with us. She was cracking up! Of course, she'll be watching this again in about a year, but we'll keep that between you and I. I completely recommend this Intensive to any family with children in upper middle school and older.
Connect on social media:
Facebook:  https://www.facebook.com/excellenceinwriting
YouTube:  https://www.youtube.com/iewtv
Twitter:  https://twitter.com/iew  @IEW
Pinterest:  https://www.pinterest.com/iewriting/
Click the banner below to read more Crew reviews about IEW's High School Essay Intensive