So this year, we studied American History. My kindergartners and I have read many historical-type picture books and did a ton of notebooking pages. My eighth grader also studied American History. While her studies looked a bit different, they too included a plethora of books. Most recently we've been reading through the Adventures of Rush Revere #1 New York Times Bestselling Book Series by Rush and Kathryn Adams Limbaugh. Actually, we received all five books in the Adventures of Rush Revere Book Series. I was quite impressed by the shiny hardback books upon opening the post box. Isn't that blue ribbon lovely? I do love the attention to detail.
The five book titles are:
Rush Revere and The Brave Pilgrims

Rush Revere and The First Patriots

Rush Revere and The American Revolution

Rush Revere and The Star Spangled Banner

Rush Revere and The Presidency
American History With Rush Revere
Pretty much everyone in America has heard of Rush Limbaugh. His outspoken stance on politics and American government can't help but draw attention. While his podcasts, radio shows, and other books have primarily been for adults, these are written for a younger crowd. Each book follows the time-traveling adventures of Rush Revere and his talking horse, Liberty.
My original intention for the series was to read them aloud to everyone (8th grade, two kindergartners, and a three-year-old), but then life happened. This past month has been full of sickness, big boo-boos, and a University acceptance letter (more on that later). So, where I thought I would have ample time to get through the entire set, we only made it through the first two books, and about halfway through the third. And that was only accomplished because I bought the audio version of book one on Audible- which is excellently done by the way. It's done by Rush himself. We listened to Rush Revere while the kids laid on the couch and I rocked the baby after lunch. It was about five hours of listening time and took us just over one school week to get through.
Each of the books are written in a wonderfully engaging way. Having listened to the first book being read by Rush, reading the other two aloud left something to be desired. I think I'll plan to purchase the rest on audio book in the future and just let the books be private reads instead.
I'm not a history buff by any means. In fact, that's probably the one area I lack the most knowledge. Well, other than geography, but we aren't going to talk about that. I'm one of those homeschool parents who learns right alongside my students (one of my favorite aspects of homeschooling). This has been no exception.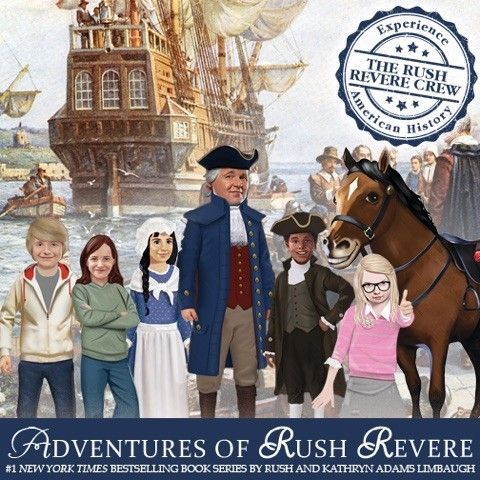 Not only did we learn about the pilgrims' brave voyage, colonial America, and the American Revolution, we chuckled along the way. Liberty is down right hilarious. Every one of us enjoyed listening to Rush, and then later myself (to a lesser extent), reading the books. I look forward to a slower season in life to be able to sit down and read the rest of the books.
The books are all written at an upper elementary reading level but are easily enjoyed by children and adults of all ages. They retail for $19.99 each.
Obviously, I highly recommend this wonderful series to everyone.
Connect on social media:
Click the banner  below to read more Crew reviews about Rush Revere and his time-traveling adventures with exceptional Americans