Our homeschool is very eclectic, very delight-directed, and very chaotic. Well, okay, that's our life in general, not just the school part, but I think you get the picture. What we study changes almost on a weekly basis, or at least the negotiables do. Our non-negotiables (reading, writing, and math) stay in focus throughout the year.
For the past few weeks, Julia, my almost freshman, has been working with Hewitt Homeschooling's British Medieval Lightning Literature and Composition. We received the student text and the teacher guide for review. Hewitt Homeschooling also offers a paper evaluation service.  For $250 per year, the folks at Hewitt Homeschooling will evaluate up to 24 of your student's (singular student) papers. We also received a trial offer of this service.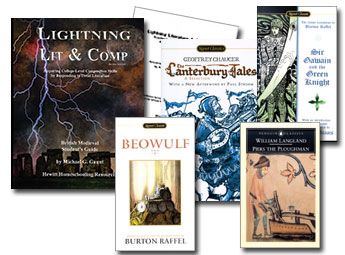 College Composition Prep With Lightning Literature
This particular literature guide is recommended for children in grades 10-12, but my Julia is well read so I figured she could handle some of the big dogs like Beowulf and Canterbury Tales. I chose this guide over some of the others because I wanted to stretch her. Julia is a phenomenal reader and speaker, but her writing needs work. It has always been a struggle to get Julia to write, which is evidenced in her handwriting. It literally looks like chicken scratch.
This year (over the summer, she just doesn't know it yet) she will begin daily writing- just 15-20 minutes each day, plus her regular writing curriculum. The only way to get better at something is to do it, writing included.
The teacher guide is super helpful and contains the following:
answers to comprehension questions
schedules
writing exercises from the student guide
discussion questions
project suggestions
grading tips, templates, and checklists
and some tips to encourage the young writer
The student guide is broken into four units, with two lessons per unit. The works involved with this level are:
Beowulf
Anglo-Saxon riddles (text is in the student guide)
Piers the Ploughman
York Mystery Play Cycle 42, The Ascension (text is in the student guide)
Sir Gawain and the Green Knight
Selection from The Gest of Robyn Hode (text is in the guide)
"St. Thomas Becket" from The Golden Legend (text is in the guide)
Selections from The Canterbury Tales
These are some heavy reads, but that's okay because this is college prep high school work. It's supposed to be hard.
Comprehension questions and writing exercises follow each lesson.
How we used Lightning Literature
We started with Beowulf. Originally, I bought two of the Dover Thrift Editions so she and I could read together. We found out very quickly that that wasn't going to work. The student guide refers to line numbers often, but there were no line numbers in that edition!
So then we got the book and audiobook written and read by Seamus Heaney. That worked out MUCH better. There is also a recording of Seamus reading his book on YouTube. We listened and followed along with the book in the truck (she followed along and I drove) and sometimes during our school day.
With a baby, a toddler, plus two kindergartners, I'm finding it harder to listen to audio books in the house. I really have to time it just right if we plan to hear anything being said. And by "time it right" . . . the baby and toddler have to be down for a nap (which hardly ever happens at the same time), and the 5 and 6-year-olds need to be *happily* engaged with LEGOS, coloring, or the like.
What does almost 15-year-old Julia think?
I had a hard time with Beowulf. While I did not enjoy the book, I did like the student guide and the way the information was presented. I thought the writing assignments would be difficult, but when we broke it down step-by-step, it wasn't so bad. I just had to do a bit of critical thinking, and keep in mind that there is an order to things and when I just follow the order, things aren't so hard!

I really liked the riddles section. Logic is one of my favorite subjects, and I found that riddles kinda fell along the same lines. Some were easier than others. Mom and I just couldn't figure out a couple of them and had to look in the teacher guide for the answers, but she assured me it wasn't cheating.

We're planning on working our way through the rest of the student guide over the remainder of the summer.

What about the evaluation service?
As I mentioned above, we received a trial version of the evaluation service. The idea is to have your student write their answers to the writing assignments on the computer and then submit them via email to a teacher. We submitted her works but unfortunately haven't heard back yet.
I really like the idea of having the pressure of grading evaluating her (begrudgingly written) assignments put on someone else. I guess it's like someone other than your husband telling you that you look nice. You think the husband is just saying it and it almost means more coming from someone else. I'm hoping someone else's input will be of high value to her, and she'll take what is learned and apply it to future writing.
The service could essentially be used as a tutor. While they don't typically accept rewritten work to be submitted again, they are very open to questions concerning the evaluation, the student book, or any other aspect of the curriculum.
Final thoughts
A little disclaimer I failed to read before choosing this level:
"Generally speaking, this course is more difficult than all the other Lightning Literature courses except the Shakespeare courses. Much depends on student interest in the material, however. This course is especially recommended for students who have completed at least two previous high-school level Lightning Literature courses, who are studying medieval history, and who are interested in medieval literature."
Well, that puts things into perspective! At first, I was a bit discouraged by Julia's lack of interest in Beowulf and was surprised by her lack of zeal for reading the work. After all, she's usually incapable of putting a book down until she finished it!
That being said, this is an awesome literature and composition curriculum. We will continue to work through the book through the summer and most likely grab another lit guide when we're finished with this one.
Connect on social media:
Click the banner below to read more Crew reviews about some of the different products offered from Hewitt Homeschooling