As we've homeschooled through the years, I've come to realize that one of my favorite aspects of teaching my children at home is being able to enrich their lives with culture. Cultural art, music, reading, and foreign language are sprinkled throughout our weeks. Finding fine arts programs and teaching material for elementary age and up is easy, but what about foreign language for littles?
Enter Whistlefritz. We have been using the Educator's French Collection for a few weeks now. As soon as I opened the box and began exploring the materials, I knew it would be a hit. And you know what? I wasn't wrong. French has become a favorite time in our school day.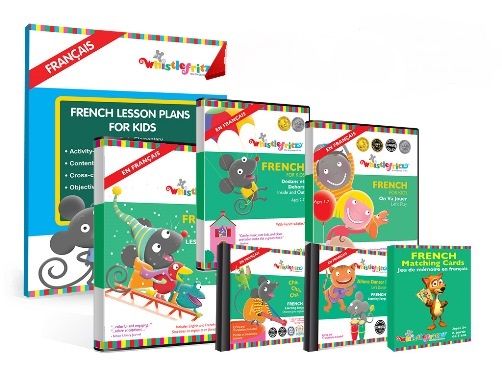 Foreign Language For Littles
Whistlefritz is an immersion-style foreign language curriculum for children pre-K through early elementary.
What's included?
3 DVDs – Dedans et dehors (Inside and Out), On vajouer (Let's Play), and Les saisons (The Seasons)
2 CDs – Cha, Cha, Cha, and Allons Danser! (Let's Dance!)
French Lessons for Kids curriculum guide with consumables
Matching Card Game
The paperback curriculum guide holds 40 lessons that engage children in fun, interactive, age-appropriate activities. The fun activities include puppet making, cooking, experiments, and games. In addition to foreign language, you'll find cross-curricular lessons in math, science, and physical education.
Thematic units include:
colors
numbers
shapes
around the house
clothing
seasons
parts of the body
food
animals
and more . . . !
How We Enjoyed Whistlefritz
Using this curriculum is super simple. If you're a rule follower and need guidelines and boundaries, then the curriculum guide will be your best friend. The multi-sensory program incorporates activities well. There's something for every learning style in each lesson.
Each lesson follows the same format:
As you can see, it's incredibly simple to follow and there's virtually no prep for the teacher- unless you count copying and cutting.
We watched videos nearly every day over the course of the review period, and they're nothing short of delightful. The bright colors, smiling faces, and upbeat songs keep the kids' attention well. Seriously. I can put one of these babies on and they don't move until it's over. At which point they ask me to restart it!
For this review, my 3, 5, and 6-year-olds were my willing participants. They all LOVE all the segments but particularly enjoyed learning their color in French. To help reinforce that, I found some free printables to help teach them the colors. Because, who doesn't love free printables, right??
We tried using the matching card game, but with them not reading English fluently yet, it didn't go well and usually ended in frustration. I really appreciate the multitude of ways Whistlefritz makes learning fun. We'll try the game again in a few months.
Overall, this has been a great experience and a product we will keep using for years to come (more kids to go through!). That being said, there are a couple of improvements I'd like to see:
PDF downloads of the curriculum guide and consumables. Honestly, it's a pain to hold the book open and make copies for the kids. I love my printer and all, but making in-book copies is no easy task.
Streaming videos would be great for on-the-go and to use on devices and laptops in the house.
The Spanish Collection has some extras on the website- extra lessons, plans, and things of that nature- I'd like to see the same for the French.
But overlooking those three things, this Foreign Language for littles is near perfect for the age group. We love it.
Connect on social media:
Click the banner below to read more Crew reviews about Whistlefritz