We recently received the Homeschool Special from MarshMedia. These health videos for kids cover a wide variety of topics including hygiene, health, puberty education, safety, immune system disorders, head lice, nutrition, and much more.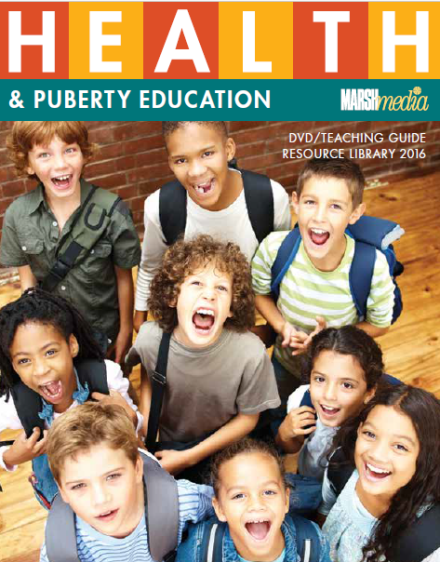 Health Videos for Kids
I think we all (at least all of us who were in public school) remember the TV monitors being wheeled into the classroom, the lights turned off, and the corny hygiene videos being shown to the class.
These videos are kind of the same thing but without the corn factor. Since they are targeted toward younger children, I had my 5 and 6-year-olds sit down to watch a couple videos, a few days a week.
A few things concepts the videos cover:
AIDS / HIV/ Immune System
Health
Nutrition
Safety
Hygiene
Social Skills
Bullying
and more . . .
As you can see, there is quite an array of topics covered. Having children whose primary social interaction is composed of playing with children who are also homeschooled and usually fellow Christians means that there isn't usually a whole lot of bullying and mean behavior. This could result in them becoming teenagers or even older with no idea how to handle bullying or even what it is.
Those videos have made it possible to expose my children to things that they might not otherwise have known about.
One of the other videos they watched was about blood born pathogens. I'm not sure how they got onto that video (I let them click around on the different videos) but at one point I looked over and there it was! As they continued watching it, I tried to listen as I was doing other things. I was pleased there was nothing inappropriate for their age.
After they finished watching it, my 6 year old jumped up and said, "Wash your hands! Everyone wash your hands!" He ran to the bathroom, washed his hands, and exited surgeon style (with clean hands held up in front of him). "Now, don't' touch anything!" He cracks me up.
While the extreme germ phobia only lasted an afternoon, he definitely is more aware of germs and washes his hands more often- which is a good thing.
Final thoughts
All in all, these are wonderful videos to help fill some of the gaps we might have created through oversight. They also work when I've got some things to get done and I've deemed it a "video school" day. MarshMedia will be among our regular go-to videos for video days.
How to get access:
This current offer (only available to homeschool families) of unlimited viewing of 59 programs for $50.00 until the end of 2017 (December 31, 2017) with no time constraints or limits on the number of times a program can be viewed, can be accessed by using the link below.
If you'd like to take advantage of the opportunity to introduce the MarshMedia curriculum to your homeschool crew, click on this link for more information: MarshMedia

Connect on social media:
Click the banner below read more Crew reviews about Marsh Media