Internship for High School Credit is a wonderful resource for parents who are homeschooling through high school. Written by Sherri Seligson and published by Apologia Educational Ministries, this spiral bound workbook is available for $33.00 on the Apologia website.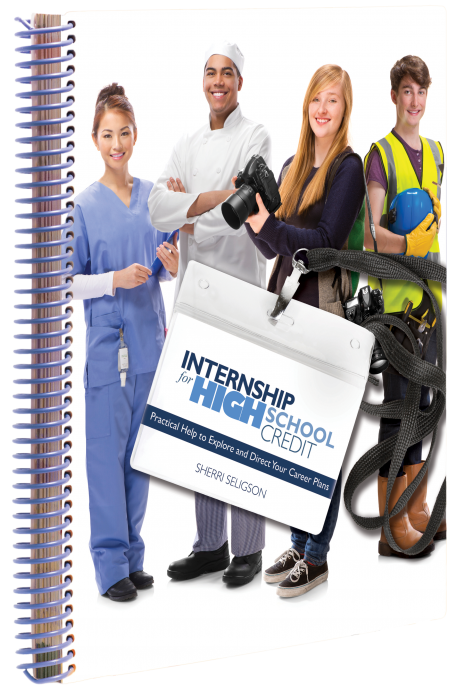 Internship For High School Credit
Oscar is heading to college in the next couple of months, and oh how I wish I had this book a couple of years ago!!! He plans to major in Music Composition at a somewhat local (45 minutes away) university. Unfortunately for him, he was my experimental kid- my first homeschool student, my first child, you know . . . the one us parents learn through trial and error with.
That being said, I think he turned out alright. Knowing what I know now, I would have homeschooled him differently. I would have prepared more for college and focused his studies more toward his goals, not mine.
Him having an internship would have been an excellent opportunity to learn not just about his chosen career path, but himself too. And to top that off, he could have earned high school credit for the experience! I had no idea.
Some benefits of interning during high school:
your child can explore a career to make sure that's truly what they want to do
they can focus more closely on a college major
it looks great on college applications
increase scholarship opportunities
gain some seriously marketable skills
and increase potential job offers (nothing like hands on experience!)
How to use Internship for High School Credit
The workbook is an all-encompassing tool. It walks students and parents through the somewhat intimidating process of a high school internship. The beginning of the book covers some of the major questions about obtaining an internship, like what kind of career field to pursue, how to identify companies in your field, and how to write a resume.
The workbook is divided into five parts:  
Part I: Getting Started
Part II: Information for Parents
Part III: First Semester
Part IV: Second Semester
Part V: Course Wrap-up
The idea is for students and parents to read Part I and II together (or separately, but discuss it together) and decide where to intern and get that process going.
Then the rest of the workbook is designed to keep a record of the internship itself. Having the record (either in this workbook or another form of record keeping) is imperative to get that high school credit. Parts III and IV are to be filled out during the internship and have a weekly set up (week 1, week 2 . . . ).
In Part V the student is instructed on how to complete the internship, write a thank-you note, obtain a letter of recommendation, and work on a final writing assignment.
Writing a thank-you note! I know it sounds small, but I love handwritten notes. I think it's a lost art these days, so I really appreciate that it's part of the program.
Internship for High School Credit really takes the guess work out of the entire process. It serves as a guide, workbook, and record all in one! 
While I was too late to use it with Oscar, I've got another child starting high school in September. This one wants to work in the anti-cyber terrorism world as a psychological profiler. Wait, what??? Yeah, now do me a favor and figure out how to find some curriculum for that!!
Anyway, this workbook has the potential to be an invaluable tool for homeschool families. If your child wants to enter any kind of trade ,or get some experience prior to college, or skip college entirely, this book is for you.
Connect on social media:
Click the banner below to read more Crew reviews