We received the Bible ABC Curriculum Notebook for review from The Crafty Classroom.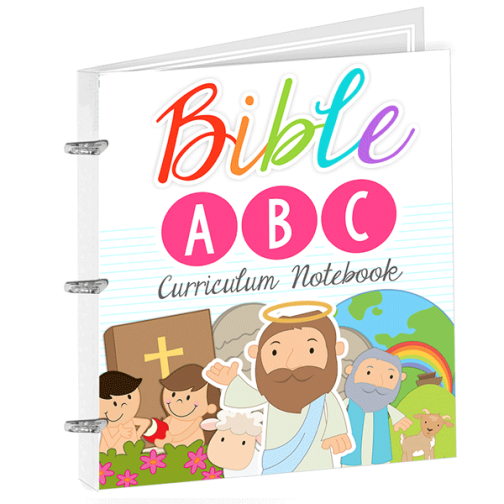 What is the Bible ABC Curriculum Notebook?
The notebook is a 658-page (!!!) PDF download. Through weekly games, lessons, stories, handwriting, and more, you child learns about the character of God. To get started you just need the notebook itself, a Bible, a heavy duty binder, and basic art/craft supplies.
You only need a heavy duty binder if you are planning on printing the entire notebook at one time to arrange by weeks and prep way in advance. Personally, I print a couple of weeks at a time. To start with, I went through and picked which activities I wanted us to do each week and only printed those. Then I separated the printouts by kid (two almost first graders and one preschooler) and week and stored the pages in manila folders.
There are a plethora of activities to be done each week. I would only recommend doing them all if this is the only curriculum your little one is doing. At this young age, the last thing we want to do as homeschooling parents is overwhelm the kid!

Each of the 26 weeks (for the 26 letters) teaches the following content (I'll put an example of each in parentheses):
Letter – (A) copywork, proper form, games
Bible Theme – (Adam & Eve) coloring pages, stories
Bible Vocab – (Image) definitions of new words from the Bible
Bible Verse – (Genesis 1:26) scripture memory, copy work
Character of God – (Creator) getting to know God
Character  Verse- (Genesis 1:1) Bible references to display of the current character quality
Below is the suggested four-day schedule.
I love the selection of activities to choose from. There are mazes, math, copywork, writing instruction, coloring . . . everything you might need or want your 3-7 year olds to do. Check out the 34-page sample for Letter A. It includes the entire week's worth of work so you can see samples of everything on the schedule.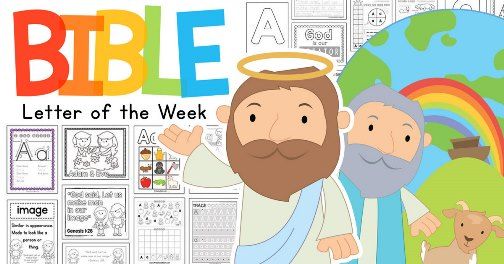 Bible Memory In Our Home
Like I said, I printed things out a couple of weeks at a time. My two kindergartners did a lot of the Bible verse copywork, daily math, graphing, and some coloring. My son isn't so much into coloring, so it was hit and miss with him, but he LOVED the math and graphing pages.
These simple worksheets are great for independent work for older kids, on the go on clipboards, or as an into to school work itself.
Probably my favorite aspect of this curriculum is that it is centered around teaching our children about the love and character of God. I appreciate that the scripture copywork is on lined (elementary) paper. Unfortunately, it is sometimes hard to find scripture copywork made for younger children. Using this in our morning time has been a great experience. It doesn't take long to do but has a lasting effect.
As far as we are concerned, this is an awesome product, great for kids ages 3-7. And best of all, because it's digital, I can use it over and over again- a huge perk for our large family!
Connect on social media:
Click the banner below to read more Crew reviews about some of the other awesome early elementary products from The Crafty Classroom