We love Home School in the Woods and have used their products regularly throughout the years in our homeschool. Some of the products we've used include Ancient Egypt, Elections Lap Book, and Project Passport Renaissance & Reformation. This time around we received the Timeline Trio.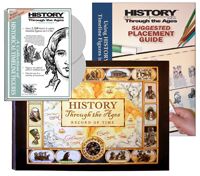 What is the Timeline Trio?
The Timeline Trio includes the HISTORY Through the Ages "Record of Time", Suggested Placement Guide, and the HISTORY Through the Ages Collection of Historical Timeline Figures on CD. The set retails for $113.95.
Here's a (not so) quick intro video to all three products.
*Post recording notes . . . Yes, I know, Walt Whitman is on page 51, not page 55. And yes, we really did lose power. Silly me was trying to record this (1) while the small children were still awake and (2) during a thunderstorm- I should have know better. Also, when I started to talk about what is on each CD on my computer, I said that I was clicking around in CD 2 stuff, but really I was exploring CD 1.*
After watching the video, I realized I never finished my explanation of the two different CDs.
CD 1 has the pages with several figures on each page- organized by time frame (as shown in the video). Every figure is available in both notebook and wall size. You'll also find PDFs that list who is included in that particular era and which page you'll find them on. Here's a screenshot of the one from Creation to Christ as an example. . .
There are also bonus figures. The figures and their organized list of where to find them are also included on CD 1.
CD 2 is for more advanced use. The images are provided as individual GIFs. Once the image has been placed into your document or application, it can be reduced or enlarged for a variety of uses. To be honest, I haven't used this a whole lot yet. I REALLY like being able to print out the notebook-sized ones for me to put in the timline and the larger ones for the kids to color as we read/talk.
Here's my finished explanation of the components after the power came back on.
As I mentioned, one of the ways we use the timeline is to print, color, and paste the figures that go along with our Mystery of History lessons. We also look for poets and painters, biblical events and people, favorite authors  . . . You'll find figures for every subject to add to your timeline.
Here's what our finished figures looked like the first page we completed.
The beautiful Record of Time book
The binder is beautifully made. The pages are extra thick for longevity and durability, and the binder itself is not only pleasing to the eye, but also very sturdy. We love pulling it out and looking through the figures we've put in so far (review!). This is the reason I chose to put the figures with text in the binder. That way I don't have to look people or events up when we review, it's already on the pages for me.
The lined pages make it easy for me to write notes about figures if I want to. One day my children will be the ones making notes. 🙂
Why keep a timeline?
Most children can't comprehend time. Keeping a timeline is a fantastic way to illustrate a very intangible thing. We have just begun to use the over 1,200 figures available on the CDs. I look forward to using this for the remainder of our homeschool years. I also look forward to the day when the kids can color, cut, and paste the figures themselves. Children-done work is so much better than adult-done work. At least, in my opinion.
With my youngest being just 10 months old, we've got about 18 years to go in our homeschooling journey. This September will begin our seventh year. That means I'll have been homeschooling for 25 years!!! Wow! In any case, this is something that will be treasured in our family for years to come.
Hands-on history
Home School in the Woods has really made a name for themselves as a hands-on history company. Their products appeal to every age and learning type, and are especially great for family style use. Home School in the Woods has a permanent spot in our homeschool toolbox.
Connect on social media:
By the way, have you ever just wanted a select few projects for topical studies, but not wanted to purchase an entire unit to get them? Home School in the Woods is now offering A-La-Carte projects! Be sure to hop on over and check them out!
While you're there checking out the A-La-Carte items, grab the Erie Canal project for FREE! Just use code alacarte  at checkout.
Click the banner below to read more Crew reviews about some of the other awesome products offered by Home School in the Woods