In our house, we have a saying, family helps. Like most large families, we have a working chore system. Everyone has chores. Everyone helps. We have daily, weekly, and monthly chores that get done according to the need (mess/yuck factor). Things like making your bed and dishes get done daily. Deep cleaning the bathrooms and vacuuming upstairs get done weekly, and things like decluttering closets get done on a monthly basis.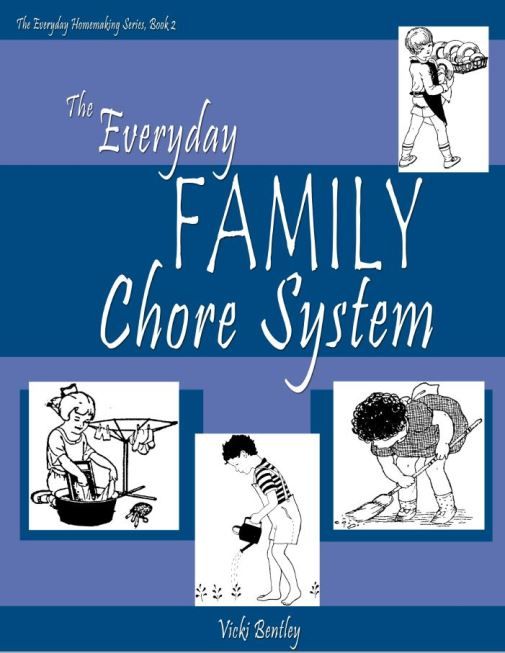 Because I always keep an eye out for shiny new chore systems, I was excited to review The Everyday Family Chore System from Vicki Bentley at Everyday Homemaking. We received the e-book version. It's 90 pages in length and divided into three sections.
Part One: Laying a Foundation
Part Two: Implementing the Plan
Part Three: The Actual Chore System
Laying a Foundation is all about child training. And beginning that training with the heart. Heart parenting is a relatively new concept for me. My oldest is 18 and in college, and it wasn't until I read Parenting is Heart Work a couple of years ago that I realized the error in my ways. I was legalistic and almost tyrannical when it came to behavior and discipline. Both my parenting and my relationship with each of my children (because that's what it's really all about, right?) have changed tremendously.
Vicki is firm in her belief that successful home management is dependent upon training your children. The entire book is based on these four basic principles.
Have realistic and age-appropriate expectations – she includes a list of proper chores and tasks for all ages of children. (all of which I agree with)
Establish rules or standards – it is imperative that children know what is expected of them.
Have a working knowledge of family discipline – the punishment must fit the crime.
Tie strings to their hearts – having real relationships with your children will discourage foolish and disobedient behavior.
Implementing the Plan is the meat of how her plan works. Using the labels and job cards included with the e-book, she teaches you how to successfully use the system. All the printable materials are what make up Part Three.
After creating a simple chart with names on it, I printed, laminated, and cut out the labels.
I used some clothes pins I found at the dollar store to clip a couple of chores to each person's name. The idea is to have the chores on the sides done daily, and the ones on the top done weekly. I have a baggie stuck to the fridge for the kids to put their completed chores into.
Included with the system are a bunch of how-to cards that are designed to teach your children exactly how to properly and thoroughly do a job. Here's an example:
These are a great idea! However, since four of my five children still at home aren't yet fluent readers, I decided to skip this part for now. When children are young (my littles are 1, 3, 5, and 6) they learn best by example anyway. Usually, I will have a child or two shadow me when it comes time to learn a new chore. After a few demonstrations, I let them do it and I shadow them. It doesn't take too long before they are completely capable of doing the chore on their own.
This chore system is a good one- especially for those just starting to train their children. Starting young is key with kids. When they're young they want to help. Nurture that and you're well on your way to a well trained, productive household.
Starting young has allowed me to delegate most of the household tasks to my children. Everyone helps.
Connect on social media:
Click the banner below to read more Crew reviews