Since the beginning of our homeschool (7 years ago), Apologia Educational Ministries has been one of our favorite supplies of homeschool curriculum. From Astronomy and Planners to Internship helps and Field Trip Journals, Apologia has something for everyone. Recently, we were given the Marine Biology 2nd Edition Advantage Set for review.
Our set includes the Student Text, Student Notebook, Solutions, and Tests. We were also given the  Audio CD.
The text is written by Sherri Seligson, a former homeschool mom with an extensive background in marine biology and is intended for high school students who have already completed high school biology.

High school science is no joke. With my oldest, who is currently in college, I outsourced most of his science once he hit high school. We had biology with labs in a co-op and chemistry was taught by a fellow homeschool mom who was actually a chemistry major in college! For both of those courses, Apologia materials were used.
Like the other Apologia science texts we've used in the past, Marine Biology is written in a conversational style and is designed with the self-directed student in mind.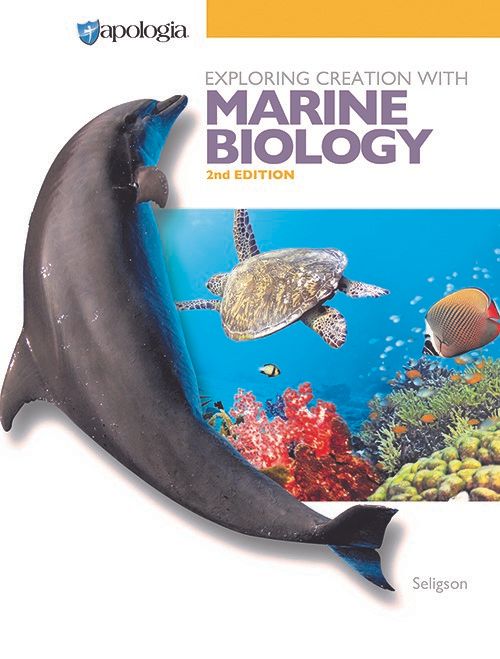 The Student Text
This mammoth of a text is over 500 pages long and designed to give two full high school credits. As long as you work about 45 minutes each day during the school year, then the student will finish in about 32 weeks. Since most school years are 36 weeks long, there's some grace built into the schedule.
Keeping with the standard Apologia science text, Marine Biology is broken into Modules- 16 Modules to be precise. Each Module should take your student about two weeks to complete. Some will take longer, others not so long . . . it all evens out in the end, right?
Biology is a pre-requisite for the program, and I'd definitely agree with that.  The text assumes the student understands basic biological facts like cell structure and function, photosynthesis, reproduction, etc. It does briefly explain some of the basics, but it doesn't describe them in detail.
Every so often in the reading, you'll come across On Your Own comprehension question. The On Your Own questions keep the kid on track and make sure they understand the important parts of the text. The Study guide at the end of each Module is meant to prepare your student for the upcoming test. There's a test after each module.
Here's a quick video to give you a peek inside the books . . .
Yeah, my phone died. Fun, right? I was going to say the English language is crazy and then talk some more about the CD. Oh well. I'll just write instead.
The Student Notebook
Obviously, I love the student notebook. Comprised of note pages, the written out On Your Own questions, the Study Guide (!), and all the experiment lab pages- it's EVERYTHING you need to keep track of where you are, where you're going, what you're studying, experiments . . . the whole shebang! While it's not necessary in order to complete the program, I'd consider it a must-have. Seriously, buy the notebook.
*A word about the experiments*
There are three categories of lab experiments in this science course.
Household Lab Experiments- require items found around the house
Microscope Lab Experiments- require prepared slides and a microscope (which you already have on hand from doing Biology, right? NO? No worries, you can grab them on the Apologia website)
Dissection Lab Experiments- require marine animals, plants, etc. (grab these from the website also)


The MP3 Audio Book
So, it's an audio book. The narrator does a wonderful job of speaking- no spitty noises (YAY!). She says everything that's in the book except the experiment instructions. We used it in the truck. We'd listen to a module before reading it- that whole phonetic thing, ya know?
So, how did we use Marine Biology?
Well, my fifteen year old and I went through the book together. When I was in elementary school I wanted to be a marine biologist. I wanted to live on and study the ocean. But, you know how life goes. Anyway, she and I read through the book together, listened to the modules on the audio book, and did a couple of the experiments. Overall, I think I enjoyed it more than she did. But, science isn't really her thing.
Connect on social media:
Facebook:  www.facebook.com/apologiaworld
Instagram:  www.instagram.com/apologiaworld   @apologiaworld
Twitter: www.twitter.com/apologiaworld   @apologiaworld
Pinterest: https://www.pinterest.com/apologia/
Click on the banner below to read more Crew reviews about the 2nd Edition of Apologia's Marine Biology