This may be our seventh year homeschooling, but this is the first time I've taught children how to write and read. My oldest two (who I pulled from public school 7 years ago) already knew how to do those things. So this is totally new territory to me. My youngest school-age children are 3, 5, and 6, so this is our first year with real writing instruction.
We've used all kinds of things. Basic zig-zag, waves, slants, etc copy pages, big white boards that didn't' confine them to size specifications, all kinds of stuff.
I was recently introduced to something I'd never seen before – Channie's Visual Handwriting & Math Workbooks. We picked the Quick & Neat Alphabet Pad to review. This handwriting handbook has forever changed the way our daily writing lessons go.
Also available are: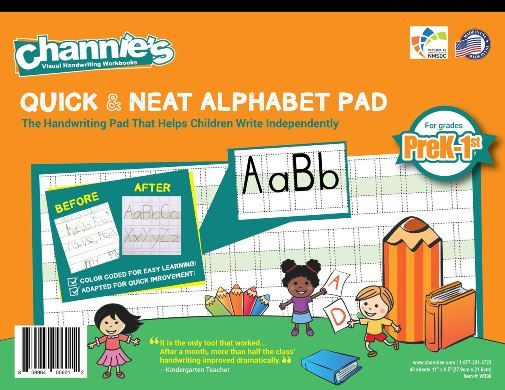 Using Channie's Handwriting Workbook
The pages are pretty straightforward. They are meant to help your child space their letters out. We used them for writing out our spelling words as well as our language arts copy work. At first, the kids were a bit resistant to using the pages because they looked different, but that quickly changed once they saw what a difference it made in their writing. They want to write their letters and words well, but sometimes still struggle. These pages are helping them overcome that.
Here's a quick video showing you how we used the handwriting workbook pages and the difference they have made.
These handwriting pages are wonderful. Each time we use them, I think, "Why didn't I think of this??"
We use them nearly every day of school, which means we go through them pretty quickly. There isn't a PDF version available, but she does sell them by the ream. You can get 500 pages for $39.95. I'd be willing to pay that. Especially when I have four children using them (which will happen in a couple of years.) There are also 250 sheet sets available.
Channie offers many other products that weren't on the review agenda this time around- there are notebooks for parents and kids, storytelling pads, whiteboards, sightword pads, all kinds of stuff!!
Obviously, we will continue to use these amazing handwriting pages. I plan to try to get the husband to buy a ream of them.
Click the banner below to read more Crew reviews about Channie's different products!