For many months my two first graders have been using Reading Eggs. We received a six-month extension to our subscription.
Our subscription includes access to:
Reading Eggs Junior (ages 2-4)
Reading Eggs (ages 3-7)
Reading Eggspress (ages 7-13, grades 1-6)
MathSeeds (teaches kids ages 3-9 basic math and problem-solving skills)
Learn to Read with Reading Eggs
Caroline and Max (my Irish twins) are first graders. For months they've been asking to do their math and reading eggs on a near-daily basis. Normally, I only ever get the free trial and not a paid subscription for online learning programs because the kids lose interest within a couple of weeks.
This is where Reading Eggs differs. We got the FREE 4-week trial and the kids still wanted to play on it, so I had a friend sign up so I could get an extra two weeks free. Well, the kids STILL wanted to play it and that's when I approached my husband about purchasing a subscription. We ended up buying a one-year subscription to both the reading and math programs back in April of this year (2017). It's now the middle of October and both kids still really like it.
We don't use Reading Eggs as a stand-alone curriculum, more like a fun alternative to what we "normally" do. ( I use the word normally very loosely.)
I sat down next to Caroline as she did her lesson and made a video for you. Here's a walkthrough of her logging in, working through the lesson, and even spending some of her golden eggs!
As you can see, the program is very child-friendly and really, once your child can effectively use a mouse and keypad, it becomes independent work. (Yay, independent work!)
Reading Eggs is a great alternative curriculum when the kids need a break from the daily routine. Although my kids often ask to play on it after we've already done a full day's worth of work. I think the key here is that they consider it playing. It's fun. And most of the time they consider it more of a game than a learning tool.
Through regular use of Reading Eggs and MathSeeds, the kids have picked up several skills that I haven't taught them yet.
Things like:
phonics blends
how to spell and recognize colors and numbers
subtraction (we haven't even started this yet this year)
many sight words and letter sounds!
Typically I have to tell the kids to get off the computer before they are ever ready to stop on their own. In fact, now that I think about it, I believe the only time they've ever stopped playing Reading Eggs on their own is when the laptop dies.
Obviously, we are big fans of Reading Eggs. It's a fun online learning program that really does teach! I can see us continuing to use the program for many years to come.
A Few Extras
Just for us homeschooling families, there are some brand new download Homeschool Guides available to download for FREE from the Parent Dashboard.  The guides are available for Kindergarten through 2nd Grade.
There are a plethora of downloadable activity pages to go with each of the programs.
Are you ready to give Reading Eggs a try?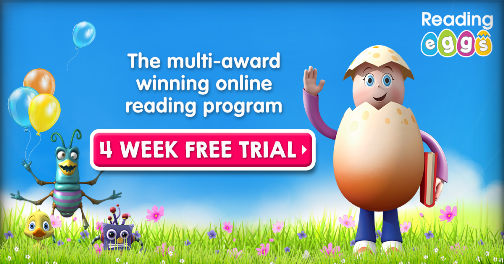 Be sure to sign up soon, the offer expires November 30, 2017!
Click the banner below to read more Crew reviews about Reading Eggs