So . . . sex. That's not a topic I write a lot about. At all, really. But having two teens, it's definitely one topic that needs to be talked about. Especially since I was a teen mom myself. I gave birth to my first son when I was barely 16. I was married by 18 and gave birth again, to a girl this time, just six months later. I wasn't raised in a Christian home, and sex wasn't talked about, which meant purity was something I'd never heard of.
I was thrilled to hear about Abby Ludvigson and Sex by Design. Not that I would ever regret having my son (who is in his first year of college now), but oh! how I wish this was something I had seen when I was a teen.
Biblical and practical, Sex by Design provides a roadmap for living pure in a sex-crazed culture.
Exactly.
Abby is a woman who lived a life of purity for 34 years before meeting her husband. Wow. Instead of being down and just waiting around for "Mr. Right", she allowed God to use her greatly. She was waiting on the Lord, but in her waiting, she was still very active in her mission. What a great testimony.
Sex by Design
The seven-part series is meant to (and totally does!):
provide a role model who lives out the purity message and shares effective ideas to help your child do the same
act as a springboard for you and your child to tackle the difficult and sometimes awkward subject
assist your child in thinking biblically about purity
develop and discuss a biblical conviction about sexuality
We received two books, the Parent Edition and Teen Edition, and access to streaming videos of Abby's seminars.
The seminars are broken into seven segments:
Plan Ahead: Living Pure in a Sex-Saturated Culture
Counting the Cost: Every Decision Has a Price Tag
Dating: Doing Relationships God's Way
Sex: God's Purpose and Plan
Modesty: God's Purpose & Plan
Pornography: It's Deception & Steps to Get Out or Stay Out
While it would be super easy to watch the seven segments and call it done. That's not the way the program is designed. Nor is it the way you'll want to do it once you get started. Because my oldest child is already gone at college, I decided to go through Sex by Design with my 15-year-old daughter, Julia.
My Jules is a wonderful, godly young lady. She knows she needs to follow God's plan for her life. She knows she needs to be pure and wait for her husband. But the reason I wanted to go through this with her is that while she "knows" the right answers, I need to be sure she believes it with all her heart and has a plan for when those temptations come.
And they will come.
My son was totally unprepared for the onslaught of sexual temptation in college. It's like there is a contest for some of these girls to see how many guys they can sleep with. It's ridiculous.
Which is precisely why the world needs Abby Ludvigson and her Sex by Design series.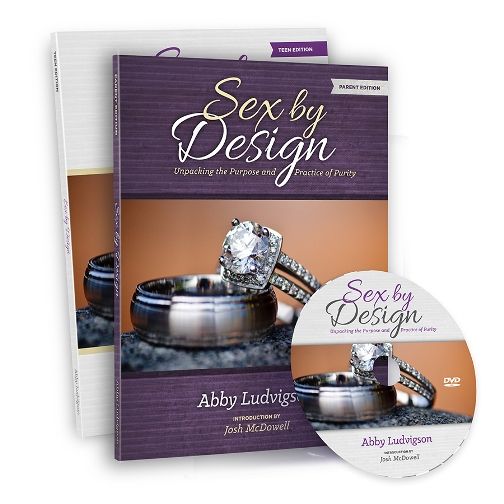 When we first got the books, I read through the first 30 pages or so to get a good grasp of the program. I handed the Student Editon to Julia so she could read through the first segment's notes. Both books have sections for each segment with fill-in note pages to be done while watching the video. They also have a Bible study at the back of each book. Where the books differ is in the resources, discussion ideas, tips, and things in the Parent Edition.
After reading through the first segment in the book, we watched the first video on the laptop together. To be honest, Julia did not want to do this. Not because she was embarrassed, she just didn't think she needed it. Towards the middle of the first segment, she was drawn in. She quickly realized there's much more to this purity thing.
After watching, we casually talked through the discussion questions.
Once we were done, I checked off my little box on my to-do list and went about the rest of my day. But it didn't end there for her. My plan was to watch one a week, probably on Thursdays. But she blew that plan out of the water. She kept coming to me wanting to talk more about it. There are application activities after each segment that she wanted to implement- like keeping a journal for her future husband.
We've made it through three of the videos so far. I don't know how long it will take us to get through the rest. I'm thankful that we have the option of taking our time so we get the most out of this program. She has also asked if we could go back and watch them again. Of course!
This has been a wonderfully unique review item. One that I didn't know we needed. Sex by Design will be a product that I use for many years to come. With three daughters and three sons, I've got my work cut out for me. 🙂
Click the banner below to read more Crew reviews about Sex by Design