Writing with Sharon Watson products are no stranger in our home. Lately, we've been using Illuminating Literature: Characters in Crisis. This literature study program is for students in 9th – 12th grade and is written from a Christian worldview. It can be used in any high school year, as can the original volume, When Worlds Collide. Thankfully, the courses are not sequential and can be used in any order.
We received a physical set of the books.
Teacher's Guide – The teacher's guide includes answers to all the questions in the lessons. The guide is much more than a simple answer key. It guides you through the process of assigning grades, lays out a monthly lesson plan, and is just plain invaluable.
Student Book – The textbook walks you through the books and short stories while teaching your student literature analysis and literary terms in a conversational manner. One feature of the textbook is that it refers to specific page numbers in the various works that your child studies. It is very helpful to obtain the specific editions of the books that Sharon Watson refers to in the beginning. She provides ISBNs so there's no mistaking the right edition.
Quiz and Answer Manual – There are three types of activities in the manual: "Yes, I read it" quizzes, Literary terms quizzes, and opinion surveys.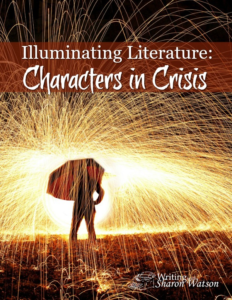 There is also a Novel Notebook available as a pdf download. It is designed to be their personal journal as they work through the course. They answer questions, analyze and form conclusions about the works and write the ideas in the Novel Notebook.
Online Quizzes are available for free if you have the password from the specific chapters (included in the book). The advantage of using the online quizzes is that they are graded online for you, however, I'm a hard copy person. I like the papers. Plus, I can keep the papers as records.

The books/works used in this volume are
:
"A Jury of Her Peers"
Frankenstein
Silas Marner
Much Ado About Nothing
An Assortment of Short Works
Sense and Sensibility (Austen is one of my favorite authors, therefore I was very excited to see this one on the list!)
The Hobbit (Tolkien! Another favorite!)
A biography/autobiography of your student's choice
Each novel, play, and short story has been selected for its characters in crisis, its literary value and for its potential to help students make moral, ethical, spiritual, and life choice from a godly perspective.
This time around my sophomore, Julia, took on the program. She's my voracious reader. So, getting her to read isn't the problem. It's getting her to write about what she has read that causes us to but heads sometimes. She simply doesn't see the point in having to write about or analyze books. She just wants to read them and move on to the next.
I appreciate that this course is designed for Julia to work through it on her own (yay independent learning!). I only need to provide occasional guidance and discuss questions/topics with her, and of course grade her work.
We got through A Jury of Her Peers and just started Frankenstein. Did you know that most people believe Frankenstein is the monster, but in fact, it's the scientist who created him! In the original work, the monster was never given a name.
Characters in Crisis has played a crucial role in enabling her to see the benefits of analyzing literature. Through the short, often entertaining lessons Julia has learned to see a different side of writing about literature. Does she enjoy writing? No. I don't think she ever will. BUT, she has been (and continues to be) given the tools she needs to be able to competently write about literature when necessary.
Characters in Crisis is a college-prep course and is intended to be used in one year of high school. If you work steadily through, your pace will be about four weeks per book.
We absolutely enjoy this program! It takes difficult concepts and makes them easy for both of us to understand. I believe Sharon Watson really understands that reading and writing about literature isn't every student's favorite thing to do, and this is why she creates these programs. She leads students gently down the path of learning to eventually love literature and become better writers.
Click the banner below to read more Crew reviews about Sharon Watson's Characters in Crisis